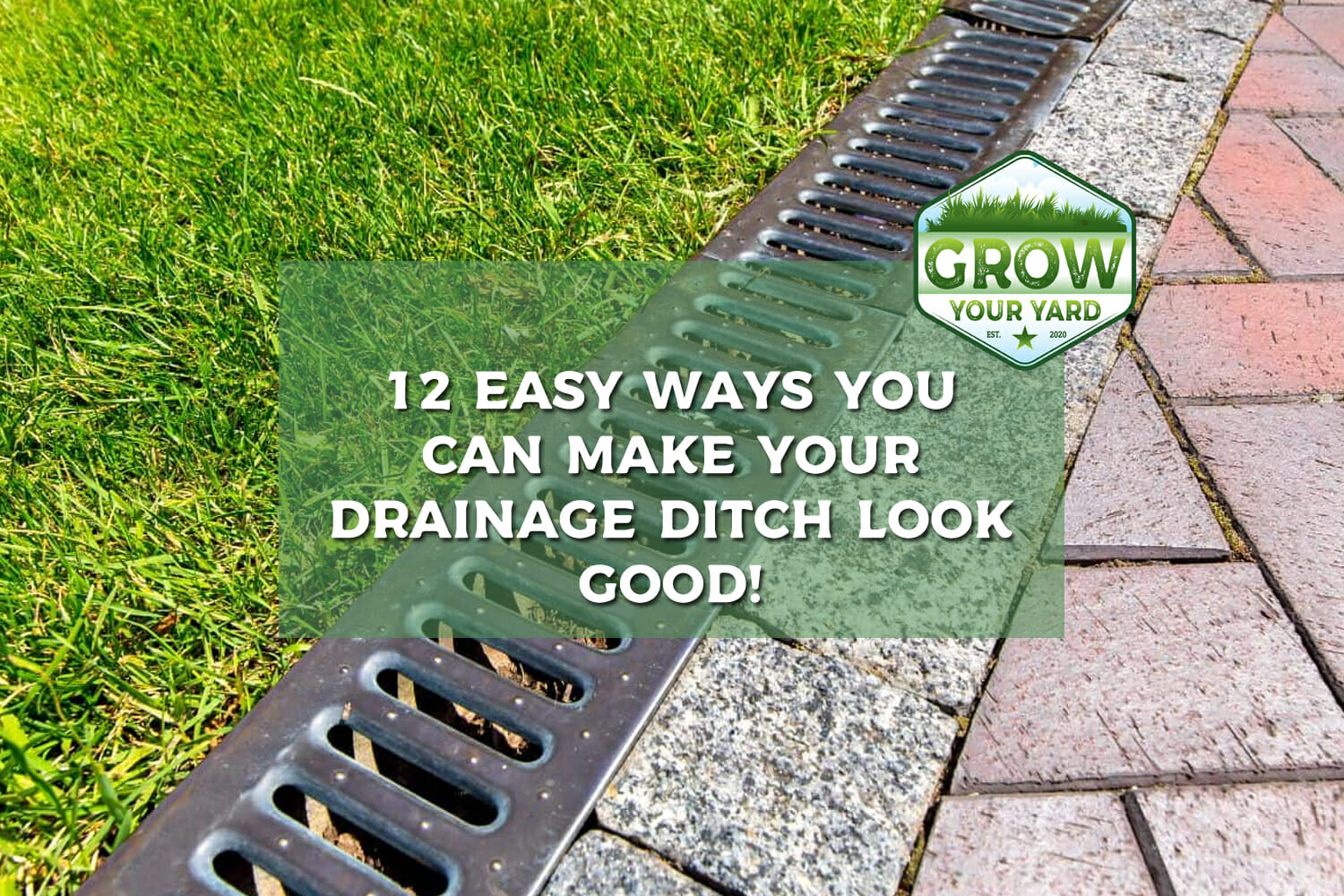 Drainage ditches are necessary in most gardens to take care of excess rainwater and avoid waterlogged lawns and garden beds. Depending on the amount of rainfall your garden gets, it's important to direct that excess water away.
The problem with any type of drainage ditch is that it's not normally very attractive in itself. But, there are ways that you can turn that ditch into an eye catching landscaping element in your garden.
Here are just a few ideas to give you some inspirations.
12 Easy Ways To Spruce Up Your Drainage Ditch!
1. Fill Your Ditch With Rocks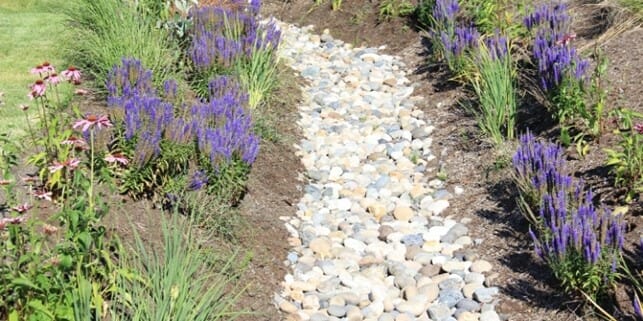 One of the easiest ways to make your drainage ditch look good is to just fill it with rocks or pebbles. You can find a variety of different rocks at most garden and landscaping centers to suit the style of your garden.
These river rocks are very attractive and simulate a dry creek bed. Compliment the look by adding a selection of plants on the 'banks'.
You can also add a more modern look by edging the ditch with paving stones, bricks or larger rocks.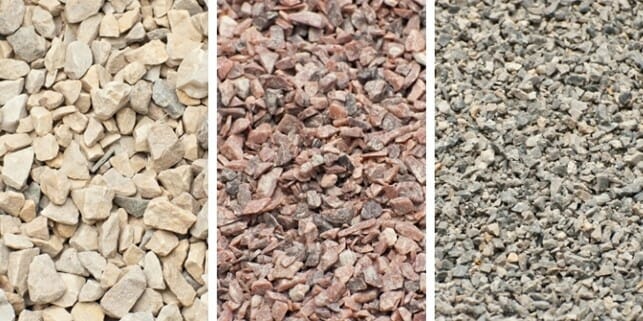 Alternatively, why not consider filling your ditch with some crushed quartz. There are many colors available, so you can choose one that best suits the rest of your landscape.
2. Use Commercial Grates
These days, commercial grates come in a variety of colors and designs to add to the aesthetics of your garden. This simple grate set into pavers allows the excess water to drain away while still looking quite attractive.
This offers you a simple design and gives a more formal look to your drainage ditch.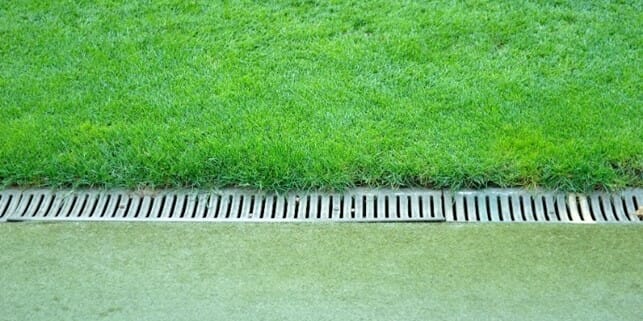 You can do the same thing as an edging to your lawn. This separates the lawn from the concrete path or driveway and makes it easy to keep the edges of your lawn neat too.
3. Create A Dry Creek Bed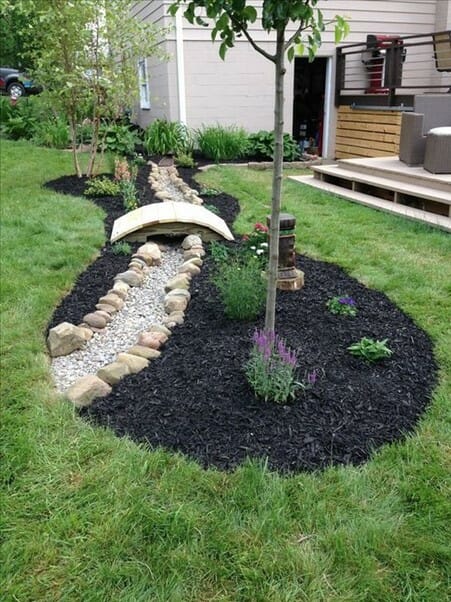 Photo: https://gardeningsoul.com/15-stunning-dry-creek-landscaping-ideas-that-you-will-love/
Here's a simple way to turn that drainage ditch into an amazing garden feature by creating a dry creek bed. Large rocks are used as an edging of the drain and then the drain is filled with smaller pebbles or crushed quartz.
The addition of the bridge adds a whimsical touch. To complete the 'creek', a garden bed is created around the drain and planted with various ornamental flowers and then topped with mulch. For a more formal look, you can edge the garden beds with paving stones or bricks.
4. Use Plants To Disguise Your Drain
Photo: https://garden.org/users/profile/Abby_B/
Here's another great idea which adds a lovely natural look to the drain. The drainage ditch is filled with pebbles and some larger rocks and then planted with irises.
You can use any plants that don't mind having wet feet like Canna lilies, Elephant's ears, Cattail and many varieties of ferns. These plants will thrive in the wet conditions and also add a splash of color.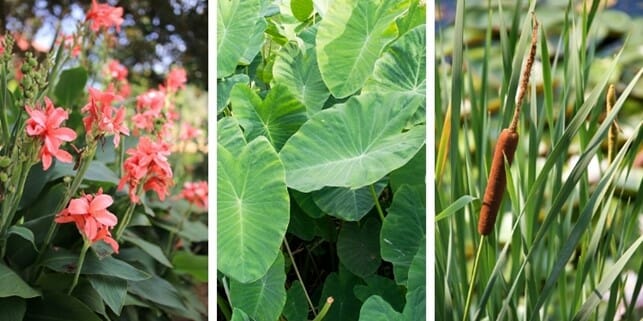 Using a combination of plants will create a natural look to your drain. Or, you can keep it a little more formal by just mass-planting one species.
5. Install A French Drain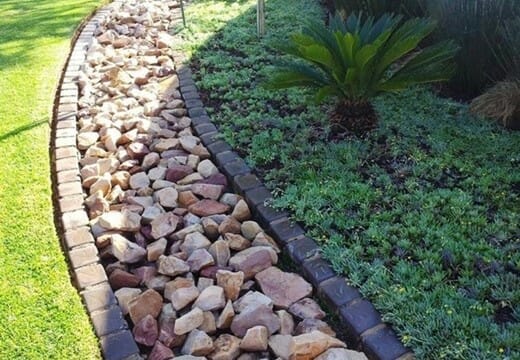 Photo: Helet van Blerk – https://s3-production.bobvila.com/articles/wp-content/uploads/2013/09/french-drains.jpg
A french drain gives a more formal look and helps to separate your lawn areas from your garden beds. This one is edged with bricks and then filled with large pieces of different colored quartz.
You could also substitute the large rocks with smaller pebbles for a different look. There are so many different ways you can create this type of drain limited only by your imagination.
6. Add Some Stepping Stones
Photo: http://www.ravenscourt.us/
If you have a fairly large drainage ditch and have turned it into a dry creek bed, then why not add some stepping stones as well.
7. Build A Rock Wall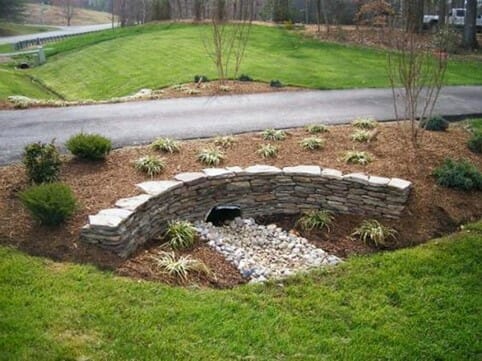 Photo: http://www.ciminellislandscape.com/our-work/
If your drainage ditch is at the end of your driveway, you might like to turn it into a feature by adding a rock wall to house the drainage pipe and contain the garden bed. Add some mulch to the garden bed above the drain and plant with landscaping plants that don't need too much attention.
8. Create A More Formal Look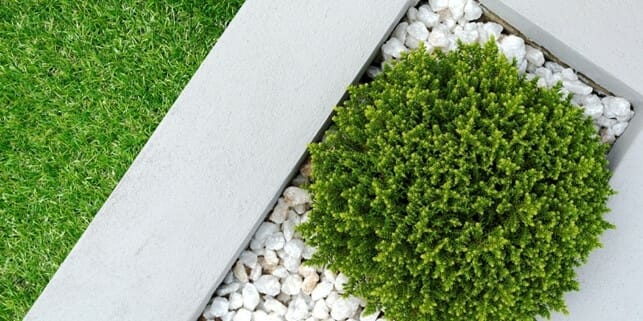 You can create a more formal look by surrounding your drain with modern concrete edging and then filling it with crushed quartz. Add a water loving plant or two which you can keep shaped by trimming it regularly.
9. Use A Combination Of Rocks And Mulch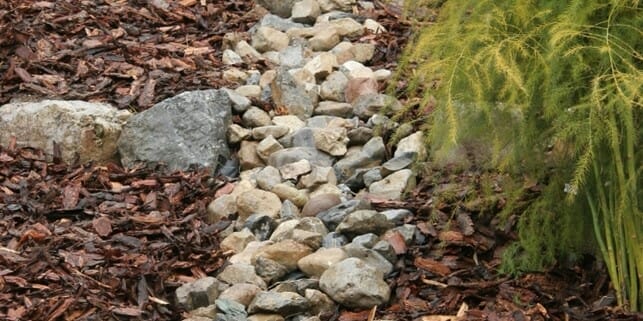 To add more interest to your drainage ditch, why not add a combination of large rocks and smaller pebbles and add some mulch in between. Compliment this with some greenery by planting a variety of water loving ferns in the mulched areas.
10. Turn Your Drain Into A Water Feature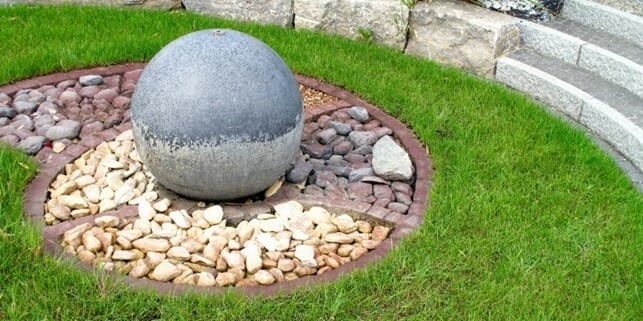 If you have a low spot in your garden where water tends to collect, why not turn it into a water feature instead. You can even install a small fountain to take advantage of that excess water.
11. Be Inspired By Japanese Gardens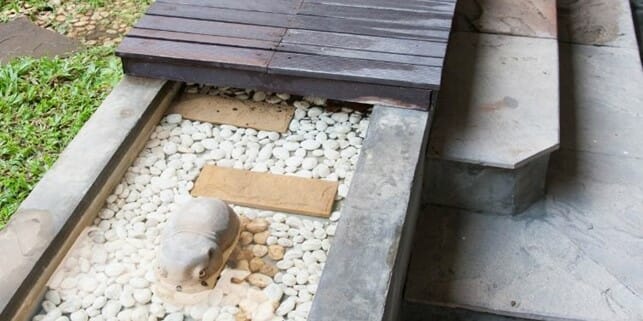 Japanese gardens use water features very effectively. You can use these for inspiration to create a more formal look to your drainage ditch. This one is enclosed with concrete edging. The pebbles are then placed symmetrically and interspersed with paving stones. Add some stone sculptures to complete the look.
12. Add Plants In Pots To Your Dry Creek Bed
If you've made your drainage ditch into a dry creek bed why not add a touch of whimsy by placing potted plants into interesting stone or concrete planters.
Frequently Asked Questions:
What can I plant in a drainage ditch?
Look for plants that don't mind having wet feet such as irises, canna lilies and ferns.
Is sand or gravel better for drainage?
Sand will compact when wet and it will retain moisture. Therefore, gravel is far better for drainage.
Draining ditches don't have to be ugly. With a little inspiration and imagination, you can turn yours into an attractive feature in your gardens.
We hope that these ideas have inspired you to turn that unsightly ditch into something unique and attractive. Why not share your creations with us in the comments below!