Pre-emergent herbicides are the first line of defense when it comes to safeguarding your lawn from pest species like crabgrass, purslane, dandelion, thistle, chickweed and more.
If you've decided to apply pre emergent herbicide, its a step in the right direction for lawns currently struggling with ridding weeds and unwanted grass species.
Read on below and discover the five best pre-emergent herbicides as well as what pre-emergent herbicides actually are, how to use them, and more.
Our 5 Best Pre-Emergent Herbicides Recommendations!
Just as all lawns are not the same, pre-emergent herbicides are not created equally either. Here are our choices for the best five pre-emergent herbicides:
Best Pre-Emergent Herbicide: Tenacity Turf Pre-Emergent Herbicide
Tenacity Turf Pre-Emergent Herbicide
Tenacity is a systemic pre-emergence and post-emergence herbicide for the...
When applied as a pre-emergent, weeds absorb Tenacity during emergence from...
Target pests: Barnyardgrass, Carpetweed, Chickweed, Clover, Crabgrass...
Active Ingredient: Mesotrione 40%
Date printed on bottle is Manufacture Date, not expiration. Shelf Life: 5-8...
The first pre-emergent herbicide on our list is Tenacity, a product with 40-percent Mesotriane as the main ingredient. It may be used as both pre-emergent and post-emergent weed control in lawns.
As a pre-emergent herbicide, Tenacity must be applied to the lawn (right down to the soil). The product targets everything from chickweed and clover (and other small lawn grassy weeds) to crabgrass, thistle, and broadleaf weeds and lasts for between five and eight years on the shelf if given proper care.
Pros
Targets approximately dozen pests
Active ingredient is Mesotrione
Lasts for up to 8 years if stored properly
Cons
Must be stored out of heat and direct light
Seeing as we recommend it as the best pre-emergent herbicide, we thought it deserved a full review! Read our full Tenacity Herbicide review here.
Quali-Pro Prodiamine Pre-Emergent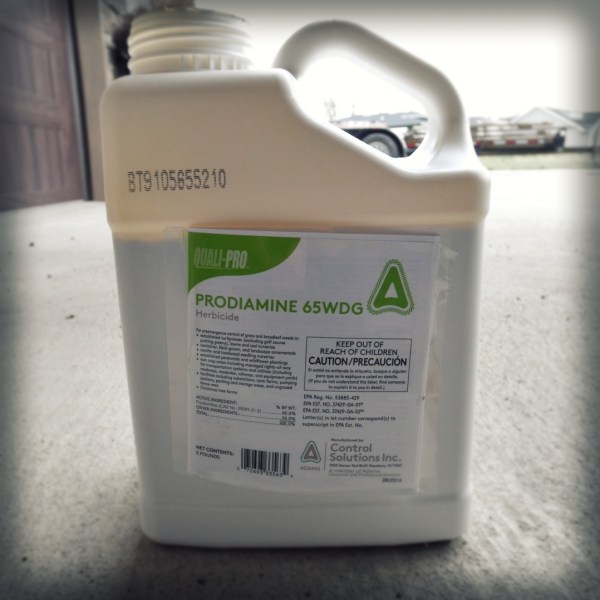 Quali-Pro Prodiamine Pre-Emergent
PRE-EMERGENT HERBICIDE: Quali-Pro's Prodiamine 65 WDG provides pre-emergent...
FEATURES & BENEFITS: Excellent tank mix partner with fertilizers and iron...
USE SITES: Nurse, Landscape, Turf, Trees, Golf Courses
EFFECTIVE AGAINST: Annual bluegrass (Poa annua), Henbit, Knotweed,...
ACTIVE INGREDIENT: Prodiamine 65%
This 65-percent Prodiamine-based herbicide is one of the most popular post emergent products for homes with large yards. Quali-Pro targets pre-emergent grass and weed seeds from species like goosegrass, henbit, chickweed, broadleaf weeds, and crabgrass, providing a powerful weed control solution.
The product is suitable for use in both the spring and the fall. Further, Quali-Pro makes a great partner for liquid fertilizer (you can mix them together and spray the yard once, rather than twice).
Pros
Works well mixed with fertilizers
Targets nearly a dozen main pests
Active ingredient is Prodiamine
Cons
5 pound bottle may run out before other produces
The Andersons Barricade Professional-Grade Granular Pre-Emergent
Andersons Barricade Professional-Grade Granular Pre-Emergent
Apply this product only in EARLY SPRING and FALL
Barricade professional-grade pre-emergent weed control is designed to...
Contains 0.48% of the active ingredient prodiamine - Labeled to prevent...
Trusted by top turf care professionals to prevent problem weeds without...
DG Pro formulation allows for more particles per square inch of chemical -...
Another favorite pre-emergent herbicide of homeowners to consider for your lawn is Andersons Barricade Professional-Grade Granular Pre-Emergent.
The product is designed for application during both spring and fall. It contains 0.48% Prodiamine as an active ingredient and works against over 30 species of pest weeds and grasses. That said, it is important to note that this product does not kill actively growing weeds (it keeps new weeds from growing).
Pros
Prevents approximately 30 types of lawn pests
Active ingredient is Prodiamine
Easy to use weed control option
Cons
May need to be replaced faster than other options depending on the size of your yard.
Yard Mastery Prodiamine 65 WDG Professional Pre Emergent
Yard Mastery Prodiamine 65 WDG Professional Pre Emergent
5OZ BOTTLE - Professionally formulated for DIYers who want small quantities...
STOP CRABGRASS - Use this in spring and fall to stop crabgrass and poa...
WATER DISPERSIBLE GRANULE (WDG) - Mix in water and sprayed out as a liquid...
SPRING AND FALL APPLICATIONS - Mix .183oz or 5.2 grams of prodiamine 65 WDG...
FOR ALL GRASS TYPES - Ok On Kentucky Bluegrass, Perennial Rye, Turf Type...
This pre emergent product from Yard Mastery is a professional grade herbicide with 65-percent Prodiamine as the primary ingredient. That means small quantities of this product go further than others.
The manufacturer suggests one five ounce bottle is enough to treat a 10,000 sq ft. lawn. The herbicide is made for use in the spring and fall and works to prevent perennial rye, st. Augustine, crabgrass. broadleaf weeds, grassy weeds, and more.
Pros
Works well on all grass types
Prevents crabgrass and other common pests
Perfect for up to 10,000 sq ft. lawns
Cons
May not prevent as many pest type weeds and grasses as other options
Snapshot 2.5 TG Granular Pre-Emergent
Snapshot 2.5 TG Granular Pre-Emergent
Snapshot 2.5 boasts more control than any other pre-emergent herbicide on...
Up to 6-8 months of control for 111 broadleaf and grassy weeds
Application rate: 2.3 to 4.6 lb per 1000 square feet
Material must be applied before rainfall or irrigation
Broad Spectrum control of weeds and grasses using active ingredients...
This granular 2.5 TG pre-emergent herbicide from Snapshot is the last recommendation on our list. The product works well against all sorts of weeds and grasses, reportedly over 111 types. Approximately 2.5 to 4.5 lbs of Snapshot 2.5 TG treats 1,000 sq ft of lawn.
It is crucial to note that this product must be applied before you water the lawn (or before it rains). That's because it is powder, and needs to dissolve into the water and then soak into the ground. One package is 50 lbs.
Pros
Control weeds for up to 8 months
Prevents dozens of pest weed and grass species
Active ingredient is Isoxaben and Trifluralin
Works well for treating 1,000 sq ft. or more of lawn at a time
Cons
50 lbs may be more than you need for your lawn
What Are Pre-Emergent Herbicides?
Pre-emergent herbicides are chemicals that are utilized as a type of weed control to prevent unwanted wild grass and weed seeds from rooting and growing in your lawn. Crabgrass is the main species that pre-emergent herbicides target, though most products target numerous additional pest species.
Types of Pre-Emergent Herbicides
There are several different types of pre-emergent herbicides to choose from that are popular and effective. The most significant ones include:
A popular pre-emergent for lawns with ornamentals or vines.
A pre-emergent mixture that consists of both benzamide and isoxazole.
Another popular pre emergent for lawns with ornamentals, flowers, and vines.
A pre-emergent that works a bit different than the others (inhibiting cell elongation and cell-division of weeds).
One of the most popular and potent pre-emergents on the market (also used for agricultural weed control).
Another effective pre-emergent that prevents seeds in your lawn from sprouting into weeds.
A powerful pre-emergent that is used in agricultural operations as much as it is on lawns.
How to Use Pre-Emergent Herbicide
Now that you know what exactly pre-emergent herbicide is, the next step is learning how to use it properly. Below, we discuss how to use pre-emergent herbicide on your lawn in detail.
1. Pick the Right Pre-Emergent Herbicide
The first step to using pre-emergents properly is choosing the right one for your lawn. Have another look over the different types of pre-emergent herbicides listed above and decide which one fits your yard best.
2. Apply the Pre-Emergent at the Right Time
Depending on the situation with your lawn, and the type of pre-emergent you choose to purchase, the best time to apply it could be in the spring or the fall. Be sure to read the label on your chosen product, it will tell you exactly what the right time to apply it to your lawn is.
3. Soak the Pre-Emergent into the Lawn
Most pre-emergent ends up mixed into liquid, whether it comes as liquid or powder, and sprayed or misted onto the lawn. Sometimes it is applied through sprinkler systems. Depending on your product, and chosen methods for applying it, make sure to copiously soak the lawn with it.
4. Skip Mowing the Lawn for Some Time
After you've soaked your lawn down with the pre emergent of your choice, it needs some time to fully work its magic. Depending on the product you picked, it may take anywhere from a few days to 2 or 3 weeks to do the job. That means you should skip mowing the lawn for a while.
5. Follow Up and Maintain the Lawn
The last step is simply following up and maintaining the lawn like normal. If you chose a good product for your lawn, and applied it well, the results should speak for themselves. At any rate, take note of how many pest species/problem areas are left and treat them again (when it's the right time of the year to do so).
Frequently Asked Questions:
Can You Apply Pre-Emergent and Fertilizer at the Same Time?
Pre-emergent and fertilizer are often applied to lawns and agricultural fields together because they work in a similar fashion. By using a mixture of the two, you only need to apply the product one time.
What Month Should You Apply Pre-Emergent?
Generally speaking, spring and fall are the best times to apply pre emergents to the lawn. That's because the temperature is right and there is enough time to prevent seeds from the previous seasons from sprouting and spreading.
Are Pre-Emergent Herbicides Safe?
Pre-emergent herbicide is as safe as any herbicide is, when it is applied properly. That said, it's still recommended to wear protective clothing and avoid spraying around pets and children.
Which of the Best Pre-Emergent Herbicides is Right for You?
Choosing the best pre emergent often boils down to what sort of situation you have going on in your lawn. Are there specific pest species like crabgrass or dandelions plaguing the lawn?
If so, double check the label of any pre emergent you're considering purchasing to make sure it prevents said species. Also, make sure the product covers a large enough area to cover your entire lawn.
Hopefully our five picks for the best pre-emergent herbicides, and the following guide, helps you choose which one is best for you and your lawn!