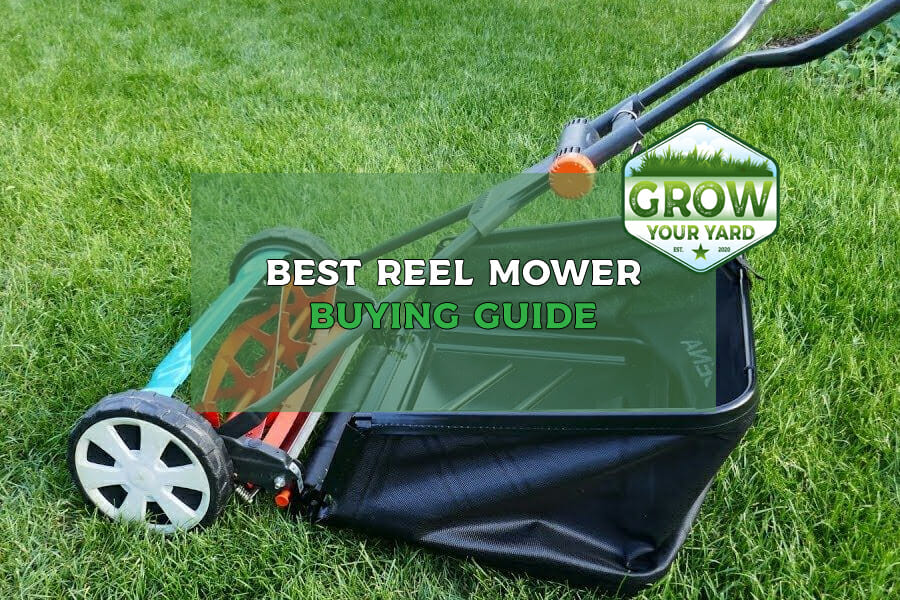 Reel mowers are a great eco-friendly and user-friendly alternative to lawn mowers. They barely require any maintenance, don't make noise, don't release fumes and still keep your lawn looking good.
For many, gardening is a way for them to relax. How relaxing is it really when you are pushing around a heavy and loud machine while your neighbors send you annoyed looks over the fence?
Using a reel mower may seem like going back to basics but sometimes basis is better. Trust us, you will be surprised why people even bother with a rotary lawn mower.
Best Reel Mower's for 2020: The Top 5
These are our top choices for the best reel mower available in 2020.
Sale
Fiskars Stay Sharp Reel Mower
The lawn mowing enjoyable with an advanced reel mower that's 60 percent...
InertiaDrive reel is designed for all grass types, delivering twice the...
New reversible grass chute can be positioned to direct clippings forward,...
Inset wheels allow the blades to extend across the mower's full 18 inch...
The Fiskar Stay Sharp Max reel mower looks like a beast and it works like one, too. Outfitted with the inertiaDrive reel, this model has twice the cutting power that its competitors has.
You can run this reel mower through all kinds of grass and weeds with ease. Adjust the cutting height anywhere between 1 – 4 inches with a single handle switch.
Don't worry, more power doesn't mean more weight to push around. Fiskar even claims that this design is 60% easier to push than other models.
Another fantastic feature are the StaySharp blades. These grass cutters stay sharper for longer meaning which means less maintenance work for you.
Besides working beautifully on the large patches of lawns, this reel mower is an excellent edger. Whoever told you that reel mowers cannot stand up to lawn mowers have clearly never tried the Fiskar Stay Sharp.
Best Features
StaySharp blades
Easy blade height and direction adjustment
Powerful yet easy to push
Greenworks 16-Inch Reel Mower
16" Cutting path gets the job done quicker and more efficiently
2-In-1 feature provides mulching and rear bag capabilities
4 position height adjustment offers a range of cutting Height from 1 1/8"...
10" Front wheels and 2" Rear rollers makes it easy to maneuver across your...
Zero fumes, no gas, quiet and easy to use for a Green healthy lawn
Greenworks is a highly trusted brand for yard work and this reel mower is another example of their excellence. This model is very user-friendly and helps you get the job done faster.
At 16 inches wide, you are able to cover more ground in less time. Plus, weighing just over 30 lbs pushing this around feels like a breeze.
What we also like about this model is that it has large front wheels and 2 smaller back wheels. This improves the maneuverability even further.
This model comes complete with a collection bag that you can use as for mulching, as well. Greenworks definitely likes to deliver you multifunctional products because you can buy a reel mower + blower combo with a good price deal.
You can adjust the cutting height to 4 different positions. This makes it suitable for a wider variety of grass.
Best Features
Easy to maneuver
Includes blower and bag
Adjustable cutting height
Earthwise 171516EW 16-Inch Reel Mower
Hand-push reel mower with 16" cutting width, 7-blade ball bearing reel, and...
Versatile Earthwise Power Tools by ALM push lawn mower for cutting bent...
Alloy steel 7-blade mower stays sharp longer
A self-cutting mower with an adjustable cutting height of 0.5"-2.5" for...
An planet-friendly alternative that matches the best gasoline push lawn...
Earthwise proves that simplicity can be perfection with their reel mower. It is highly effective in cutting grass, especially Bermuda grass and Zoysia, without all the hassle of a gas engine.
The cutting swath is 16 inches wide so you can clear your lawn quickly. It features 7 extra sharp blades that leave a clean cut for a more even lawn.
Earthwise describes the cut of the blades as scissor cutting action. Essentially, it delivers a single clean cut on each blade which reduces the change of damage and so keeps your lawn healthier.
On the sides you find 2 large 10 inch wheels for better traction. At the back, nearer your feet, there are two rubber tubes that make it easier to keep balanced and maneuver the reel mower.
The cutting height is adjustable within a range of 0.5 – 2.5 inches. This is perfect for mowing the lawn throughout the year.
Best Features
Clean cut of blades
Sturdy composite wheels
Simple intuitive design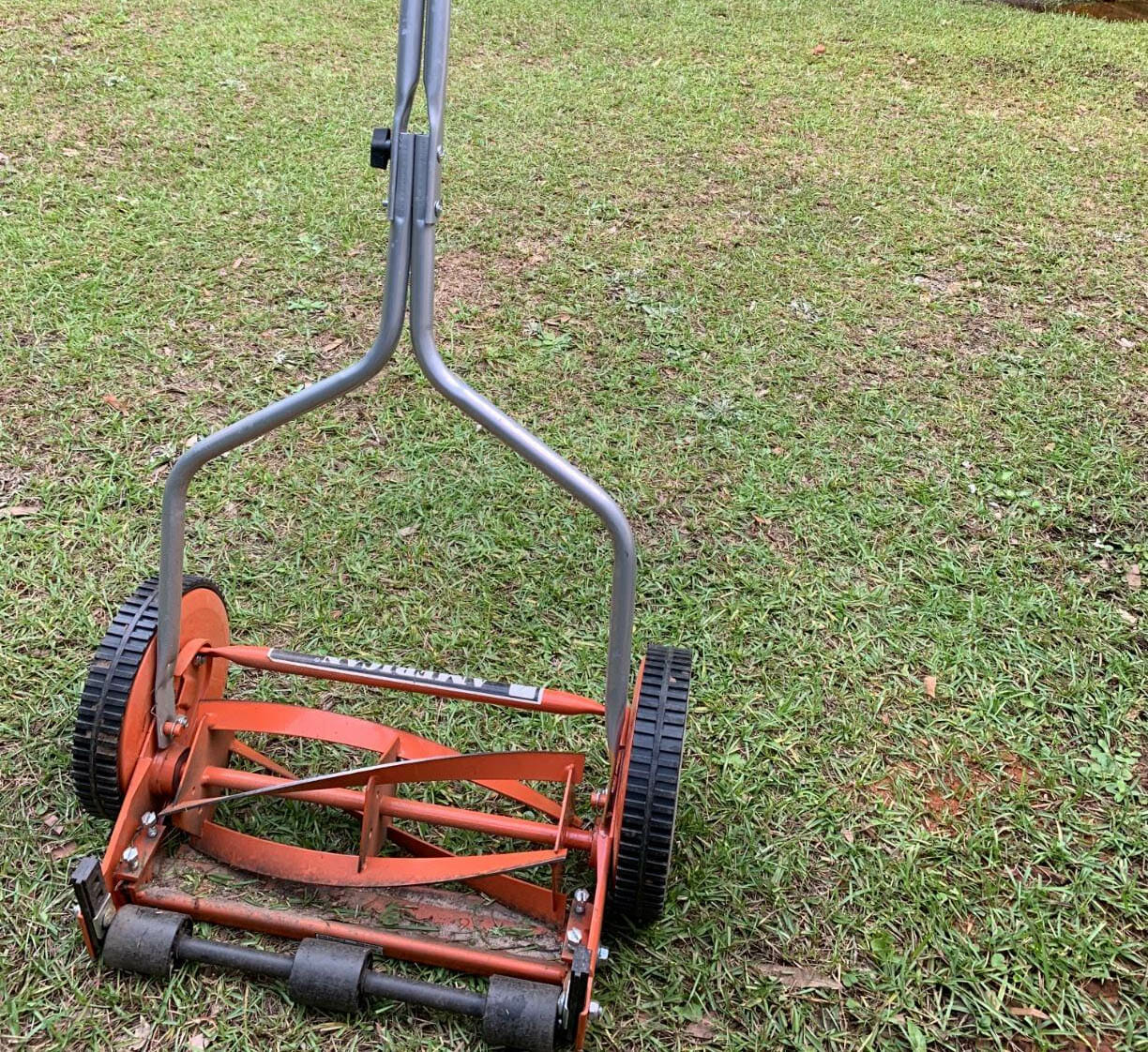 Sale
American Lawn Mower Company Push Reel Mower
4-blade reel mower with a cutting width of 14" and durable 8.5" polymer...
This push lawn mower has an adjustable blade height of 0.5"-1.75"....
Manual grass cutter is environment-friendly alternative to other lawn...
A reel mower uses a cutting action that does not bruise or damage the...
Increase the amount of overlap while using your push mower if your lawn...
Being environmentally friendly shouldn't cost you a fortune. This American brand understands that and their reel lawn mower is proof of that.
American Lawn Mower Company provides you with the perfect combination of affordability and quality in this model. As long as you don't let your lawn grow to over 4 inches, there is no need to buy a polluting gas lawn mower.
With over 120 years of manufacturing yard tools, American Lawn mower Company is a brand that you can trust. If you want to support local businesses, this is your chance.
You can enjoy this reel mower for decades as long as you remember to resharpen the blades every 3 – 5 years. That seems like a more than fair deal, right?
That being said, this isn't the best option for taller grasses since it has a cutting height range of 1 – 1.75 inches. However, for the consistent gardener this reel mower is more than enough.
Best Features
American-made
Affordable
Blades stay sharp for years
Scotts Ultra Cut Reel Mower
The Ultra Cut is designed to reduce resistance while pushing making it...
Resistant-less: This design eliminates the unwanted contact between the...
Featuring a front throwing grass chute: Grass clippings are directed...
18-Inch Cutting Width; 5-Blade Ball Bearing Reel; Cutting Height 1"-3" (9...
Tool-less Assembly; Comfortable Ergonomic "V" Style Handle; Tempered Alloy...
Even a power tool company like Scotts understands that sometimes manual is better. If you have a hilly backyard then you will be happy with this reel lawn mower model.
The Scotts Ultra Cut reel mower is carefully designed to reduce the resistance as you push. In other words, you will be racing up the hills with Scotts compared to other reel mower brands.
There is a balance between the cutter bar and the reel which prevents the lag you might get in lower quality models. At the same time, there is no compromise on the cutting quality – the reel mower won't damage your grass blades.
This is also the widest reel mower that we have on our list, perfect for larger lawns. There are 9 different cutting height settings for extra flexibility.
Another reason to buy the Scotts Ultra Cut is that it is super easy to put together. You won't need any tools which makes it extra user-friendly.
Best Features
Tool-less assembly
Resistance reducing design
Front-throwing chute
Why Are Reel Mowers Better? Advantages of a Reel Mower
Haven't made the switch to a reel mower yet? These are some of the reasons why you should.
Reel mowers are manual so they don't release any polluting fumes. This is better for the environment and better for your health.
Compared to a gas lawn mower these yard tools barely make any noise. The only sound you hear is the quick snip of blades slicing through grass.
Most models are more lightweight than gas lawn mowers which makes them easier to push and maneuver.
Some models also double as an edger so you don't need that extra tool.
Many reel mowers have more flexibility in cutting height compared to gas mowers.
The precision cutting prevents unnecessary and damaging hacking of grass blades.
Many models let you attach a collection bag and control the direction the clippings move towards.
Have no problem cutting wet grass unlike gas and electric mowers.
When a Reel Mower Is Not Enough – Disadvantages of a Reel Mower
Although there are many reasons why you should buy a reel mower, there are a few occasions when this yard tool won't be as effective.
Not suitable for cutting tall grass.
Simpler models may not be able to cut through thick weeds
Although lighter than walk-behind gas lawn mowers, still require some upper body strength. For the least strain on your body, use a riding lawn mower.
That's it, those are all the disadvantages we can think of. Clearly, there are more reasons in favor of a reel mower than there are against it.
How Do I Choose a Reel Mower – Buying Guide
Need help choosing the best reel mower for you? These are the specs that you need to think about.
Blades
Blades are the most important component of a reel mower. You want extra sharp blades for a clean cut and the blades should also be durable.
By durable we mean that it doesn't rust easily and won't suffer damage from regular bumps and scratches. Opt for stainless steel blades or a similar material.
Keep in mind that even the best quality reel blades still need to be resharpened every few years. Also, never leave your reel mower outside in the elements and don't leave it in a humid storage space.
Number of Blades
One of the more common questions about reel mowers is how many blades it should have. There is no definitive answer as this depends on the quality of the blades and design.
There is a general rule of thumb though: fewer blades are best for thicker grass while more blades are best for softer grass.
Cutting Width
This criteria is quite logical; the larger your lawn the wider the cutting width should be. 16 inches is suitable for most lawns but you can buy a narrow reel mower for smaller lawns.
Cutting Height
Always check the available cutting heights of a reel mower. The more settings there are the more flexible the tool is.
Most models have a cutting range of 1 – 3 inches. Since reel mowers don't do well with grass that is taller than 4 inches, you will probably have to be more diligent with this chore.
The advantage of a reel mower is that you can cut closer to the ground. If you want to experiment with different lawn grass heights or want more precision cutting, this is the best type of lawn mower for you.
Maneuverability
Reel mowers are manual yard tools so all the power comes from you. Thankfully, the missing engine makes these mowers relatively easy to push.
There are two main factors affecting its maneuverability. The first is how much it weighs and the second factor is the tires.
Of course, the more lightweight the reel mower the easier it is to push around. This is especially useful when you are dealing with uneven ground.
As for the wheels, you want a design that offers good traction. Most models have two large side wheels but the models that have extra wheels in the back are easier to move around.
If you are worried about the physical effort of pushing a reel mower, pay close attention to wheels. Reading some reviews will also give you an insight into the maneuverability.
Frequently Asked Questions:
Do Reel Mowers Cut Better Than Lawn Mowers?
Reel mowers are more precise cutters so in that sense they are better than lawn mowers. You are less likely to damage the grass blades and able to cut closer to the ground with a reel mower.
Are Manual Reel Mowers Any Good?
Yes, reel mowers are an excellent alternative for gas and electric lawn mowers. They are highly effective for shorter lawns and keep your grass blades healthy.
How Long Does a Reel Mower Last?
Reel mowers can last for decades as long as you take care of its blades. Resharpen the blades every 1 – 3 years and you should have no problem keeping your lawn tidy.
Summary
There are many advantages to using a reel mower over a gas or electric lawn mower. It is better for the environment, better for your health and better for your grass blades, too.
When choosing the best ree mower, think about the size of your lawn and the type of grass growing. This will help you narrow down your options.
Some of the best brands for reel mowers include Greenworks, Fiskar and American Lawn Mower Company. These brands all offer you top quality designs that are user-friendly and easy to maintain.
If you are tired of the noise, the fumes and the hassle of maintenance of electric and gas lawn mowers, it is time to make the switch to a manual lawn mower. They are very simple yard tools but they are proven to be effective in keeping your lawn looking like a professional has tended to it.