The best countertop compost bins make composting at home possible, even when you live in a tiny apartment. They are also a great addition to the kitchen for those that have a much larger composting container outside.
Composting is a great way to reduce your waste products. The organic matter that you can compost is saved from ending up on a landfill where it will only add to methane levels – not good for the environment.
There are commercial composting companies that accept biodegradable waste from consumers so you don't have to go through the entire process on your own. However, even then you need a container that will collect your waste (unless you plan on making daily trips to the compost company).
Whether you have been composting for years or finally want to give it a try, these countertop compost bins will help you out. Scroll down to learn more about composting at home and how to choose the perfect container.
Best Countertop Compost Bin: The Top 5
OXO Easy Clean Compost Bin
Unique design keeps bags tucked inside for a neat look
1.75-gallon/6.62-liter capacity perfect for busy kitchens
Smooth interior makes Bin easy to clean
Odor-containing and pest-reducing since oxygen can flow through the...
Stay-open lid makes it easy to toss scraps in while you're working
OXO is known for making extremely convenient products. Their entire range is carefully designed to make every day tasks simpler and now they have added composting to that list.
This countertop compost bin checks all the boxes. It is compact, prevents odors, easy to clean and keeps your kitchen looking tidy.
With a maximum volume of 1.75 gallons it is perfect for singles and couples that do lots of cooking at home. The way that the internal container is designed makes sure that there is always some space at the top for air circulation, essential for composting.
You have the choice between using a bin liner or not. The entire container is suitable for a dishwasher so either way you can keep it perfectly clean.
Another brilliant design element is the removable lid which stops any scraps from making the lid dirty. The lid will also stay upright on its own so that you can keep it open while you are prepping meals.
Best Features
Removable stay-open lid
Can be cleaned in dishwashers
Soft-close to reduce odors and pests
Sale
Granrosi Farmhouse Style Compost Bin
✅ ODOR FREE INDOOR COMPOSTING: The Granrosi kitchen compost bin is the...
✅ HIGH-GRADE CHARCOAL FILTERS: In addition to the built-in charcoal...
✅ PREMIUM COMPOST PAIL CONSTRUCTION: The metal indoor compost bin...
✅ LARGE CAPACITY FARMHOUSE DESIGN: 1.3 gallons (7.1" dia./11" height)...
✅ SUPER EASY CLEANING & HANDLING: Use the sturdy handle to empty the...
If you have a rustic kitchen decor then this Granrosi farmhouse style compost bucket will fit right in. Made to look like a pail, the metal is rust-proof with a special inner and outer coating to keep it looking good for years to come.
Although the design may look simple, it was actually very carefully thought out. One of the biggest concerns with a kitchen compost bin is foul smells and Granrosi has come with a good solution for that.
There area aeration holes in the lid but thanks to the charcoal filter you won't be attracting any fruit flies. The lid also comes with a good sized knob so you can keep it clean whenever you are adding food waste to it.
Each package comes complete with one pre-installed charcoal filter and two extra charcoal filters as replacements. Each filter can keep your kitchen free of smells for up to 3 – 4 months so you are set for almost an entire year.
The container fits 1.3 gallons which is a great size for smaller households. It is also the ideal size for when you have a bigger compost pile or container outside.
Best Features
Rustic pail design
Integrated charcoal filter (+ extra filters)
Long-lasting rust-proof metal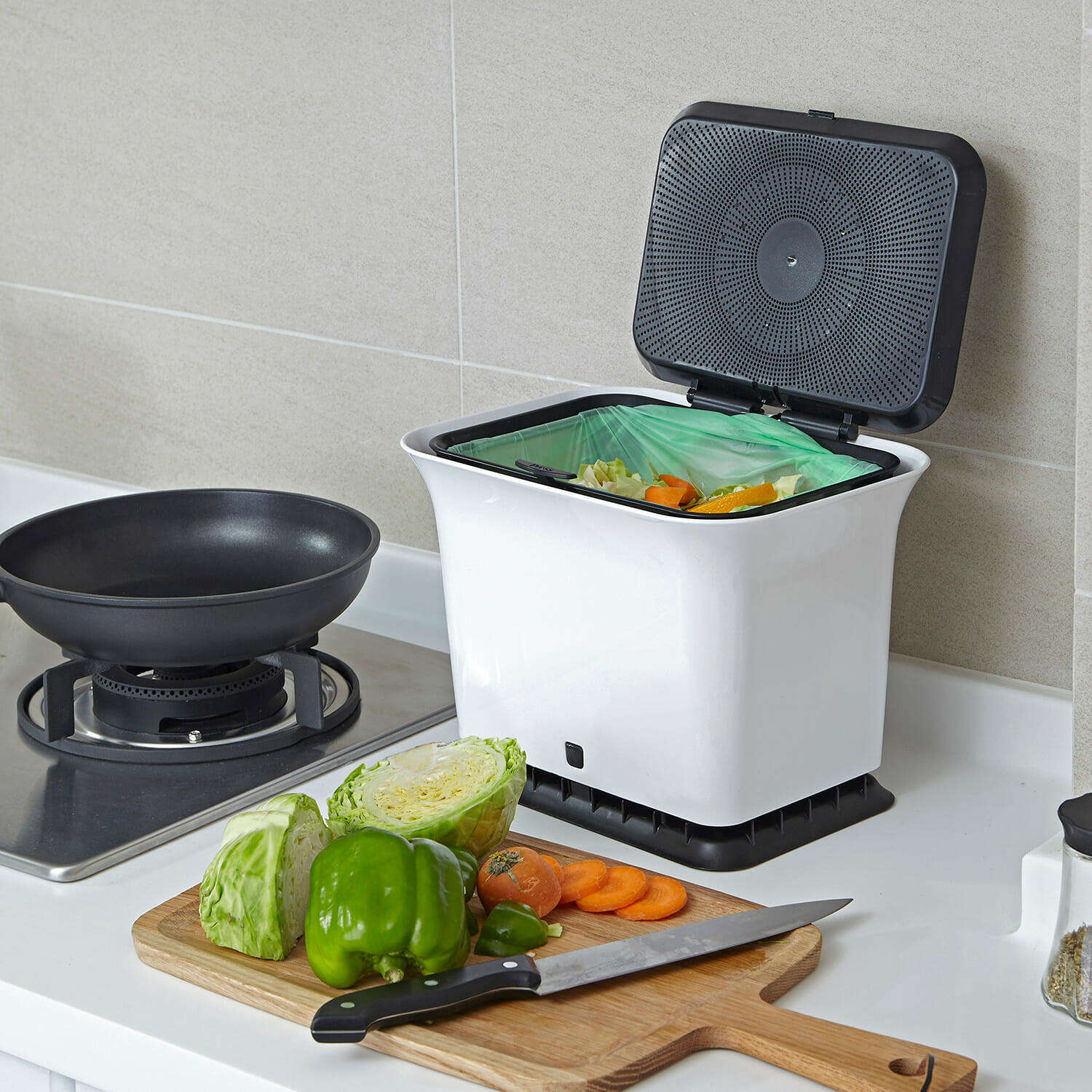 Sale
Full Circle Odor-Free Kitchen Compost Bin
Patented design lets air flow through for less odor and fewer flies
Opens easily with a push of a button
Easy to clean and empty for less mess
Ready to use, including five compostable bags
Perfect size for home and office (1.5 gallon)
Full Circle is a great brand if you are looking for products that clever, functional, stylish and kind to the environment, all at the same time. Those four adjectives also perfectly describe their countertop composting bin design.
What sets this compost bin apart from the rest is how efficiently it lets air flow through thanks to the patented design. This air flow slows down the decomposition rate and also prevents bad smells from building up.
The lid opens with a button so you can keep it clean of greasy fingers. It also fits in the top layer of your dishwasher so there is no reason to keep it dirty.
Each 1.5 gallon compost bin comes with 5 perfect size compostable liners to get you started. This makes it even easier to store the food waste until you have time to take it to the compost collector.
A final feature worth mentioning is that it is made with sustainable materials. All the plastic is recycled and the steel is partly recycled which means this product has a smaller ecological footprint.
Best Features
Patented air flow system preventing odors
Recycled materials
Push button for opening lid
Polder Kitchen Composter Bucket Compost Bin
ONE-GALLON CAPACITY temporarily stores food scraps on kitchen countertops
FLEXIBLE PUSH-THROUGH SILICONE BUCKET inverts to easily empty contents
NON-STICK SURFACE RINSES CLEAN and is dishwasher safe when extra cleaning...
ADJUSTABLE AEROBIC COMPOST SETTING, lid rotates to control airflow for...
LIGHTWEIGHT AND PORTABLE DESIGN for transporting compost to larger outdoor...
This kitchen compost bin design by Polder stands out from the crowd. It does not look anything like a regular composting container and that is exactly why you should get it.
Instead of a hard exterior, Polder chose to create a flexible bucket-like container made out of silicone. It sits neatly in a metal cage that keeps the entire product lightweight.
There are ventilation holes in the silicone bucket which helps with air flow. The lid rotates allowing you to have better control over the aerobic decomposition rate.
When it is time to empty out the bin, you simply remove the lid and start pushing out its content by pressing the silicone bucket from the bottom. This lets you get out every little bit without ever having to get your hands dirty.
This original design is a great solution for those that still feel a little grossed out when they see the crumbly contents of a compost bin. It is dishwasher safe so you should have no issues keeping it clean.
Best Features
Controllable air flow system
Lightweight and flexible design
Easy to clean
Sale
Tiyafuro Hanging Compost Bin
①【LID CAN EFFECTIVELY PREVENT THE ODOR FROM ESCAPING】: Indoor hanging...
②【WALL MOUNT/UNDER SINK TRASH CAN】: Trash bin is easy to install...
③【MATERIAL/DIMENSION/CAPACITY】: Compost Trash Can is made from high...
④【WIDE APPLICATION】: Our Compost Bin work great with reusable grocery...
⑤【FREE RISK TOTALLY】: We focus on high quality products and provide...
If you are looking for a small compost bin because you have limited space in the kitchen this Tiyafuro design might be the perfect solution for you. Instead of having to place this composting bin on your kitchen counter you can mount it on any cupboard or other door.
The bin comes with a wall mount which lets you discreetly hang it under the kitchen sink or next to the counter where you do your food prep for extra convenience. No matter how you hang it, you have easy access since the lid opens up in both directions.
This is one of the larger home compost bins on our list with a maximum capacity of 2.4 gallons. Its size also makes it easier to find compostable bin liners.
The sleek design was intentional so that it would be easy to clean with just water and soap. There are no thin crevices where liquids and compost can get stuck.
Another good reason to buy this model is that there is no need for charcoal filters. The special design of the lid makes sure that it doesn't release any odors while also keeping fruit flies away.
Best Features
Easy installation hanging design
Lid opens two ways
Can be hidden inside cupboards
Considerations Before You Buy
Choosing a countertop compost bin is not as simple as choosing a regular countertop trash bin. Composting bin serve a function other than simply keeping your waste in one place.
These are the features you should think about when choosing a countertop compost bin.
Aerobic Composting vs Vermicomposting
There are two different composting options for home compost bins: aerobic composting and vermicomposting. In aerobic composting, air flow and temperature are the main factors influencing the decomposition rate while with vermicomposting you ar relying on red worms to work through the organic waste.
For a kitchen compost bin, aerobic composting is recommended. This is not only because the thought of keeping worms in your kitchen may make you uncomfortable. It is also for a very practical reason and that is that aerobic composting bins are easier to clean.
Size
How much organic waste do you have in a week on average? It may be hard to make an estimate but this is an important element in choosing the right size.
Clearly, if you are shopping for a countertop compost bin you don't want it to be too big, either. The minimum recommended size is 1.5 gallons which is large enough to hold a week's worth of biodegradable waste for most households.
Air Flow System
How air flows through the contents is an essential element in compost bins. The air flow is necessary for decomposition but it also helps with keep foul odors at bay.
Most composting bins control the air flow through the lid. The basic option is a few drilling holes at the top but more advanced designs have special closures or other ventilation accesses throughout the bin.
Another important design feature related to air flow is how much space there is left at the top. Some designs have an interior container that prevent you from filling it up after a certain level. If this is not the case, you will have to pay close attention that there is always a few inches left between the top of the pile and the lid.
Charcoal Filter Integration
In theory, a good lid design removes the need for a charcoal filter. However, in practice things can work out differently.
A charcoal filter absorbs bad odors which is perfect for a composting bin. That is why some manufacturers create compost bins with an integrated charcoal filter.
Remember that these only work for a limited amount of time; a few weeks up to a few months. Make sure that they are easy to replace.
Ease of Cleaning
Despite its purpose, it is important that compost bins are kept clean. This not only pevents bad smells and attracting insects but it also prevents rot.
Since you will be keeping this bin on a countertop, you want to make sure that it stays very clean, both on the inside and on the outside. The easiest kitchen compost bins to clean have a smooth interior and exterior surface without any nooks and crannies where dirt can get stuck.
Compostable bin liners are a great solution for keeping bins clean. It is also highly recommended to choose a model that is dishwasher safe so you can give it a proper cleaning every week.
Material
Plastic and metals are the preferred materials for composting bins. Whichever you choose, make sure that it is durable.
You want a strong plastic that does not easily tear or crack and is nearly non-porous. If you prefer metal then make sure that it is rust-proof.
Recently, you can also find silicone compost bins. These are flexible which makes them easier to clean and still dishwasher safe.
Frequently Asked Questions:
What Is the Best Kitchen Compost Bin?
The best kitchen compost bin has the following features:
A practical size
Good air flow system to prevent odors and fruit flies
Easy to clean design
Which kitchen compost bin is best for will depend on how much food waste you have on a weekly basis and how much space you have in the kitchen.
Should Compost Bins Be in the Sun or Shade?
Placing your compost bin in the sun speeds up the decomposition process while placing a compost bin in the shade slows it down. For indoor compost bins, it is important to keep them in a shady spot for that very reason. A slower decomposition process helps with preventing bad smells.
If you don't want your outdoor compost pile to get too big before you can use it then consider placing it in a sunnier spot. However, keep monitoring it to prevent rot.
Should I Leave the Lid Off My Compost Bin?
Lids are not an essential feature for compost bins but most households prefer designs with a lid because it helps prevents bad odors and attracting insects. A lid is also useful for regulating the air flow and temperature within the container.
If you have a compost bin with a lid there shouldn't be a reason to have to keep the lid off. A good composting bin design has a lid that allows for sufficient air flow even when it is closed.
Summary
Kitchen countertop compost bins are a great alternative or a companion to larger outdoor compost bins. They are a convenient and practical which takes away some of the effort of composting at home.
When buying a countertop compost bin, think about how the design affects the decomposition rates. Also consider how well the design keeps insects away and stops odors.
Because of where you are placing them, it is extremely important that you are able to keep the compost bin clean. Choose a design that can fit in the dishwasher for the easiest cleaning but even then it is important that there no grime trapping crevices.
Starting a compost pile at home is a great way to be a little more mindful of our waste and its impact on the environment. Even if you can't complete the process at home, having a countertop compost bin makes it easier to collect your biodegradable waste for the neighborhood compost pile or commercial collector.