Flowerbeds come in all shapes and sizes and can either be around the perimeter of your house, along the driveway or even in the middle of the lawn. When it comes to keeping your flowerbeds nice and neat and separating them from your lawn and other areas, it helps to have a few good ideas that you can use to edge your flowerbeds.
To give you some inspiration, here are 16 flowerbed edging ideas that you might like to consider.
1. Lay Down Some Bricks
If your house is built from bricks and you have some spares laying around, you can put these to good use by edging your flowerbeds with them. This provides a nicely defined barrier between your garden bed and the lawn. It's also a low-maintenance option that you never have to touch.
If you don't have any spare bricks laying around your yard, keep an eye on online marketplaces in your neighborhood because you might find that there will be someone in your area who will have some bricks that they want to get rid of.
Of course, if you want a special color or design of brick, you can also purchase them new.
2. Create A Low Wooden Post Fence
Another clever idea is to use some round or half round timber posts and cut them into short lengths. You can then place them upright to create a post and rail fence without the rails.
For this you want to use treated pine if at all possible because this will last much better when exposed to the elements. For durability and to keep the posts in place, you might also want to drill a hole through each post about one third of the way from the top and then thread some heavy-duty wire through to connect the posts together.
3. Install Some Plastic Lawn Edging Around Your Flower Bed
Plastic lawn edging is relatively modern, inexpensive and normally available in rolls from your local hardware store or garden center. You will need some pegs to hold it down and keep it in place.
However, over time this type of edging will deteriorate when exposed to the elements and will need to be replaced. But, this is certainly an inexpensive and easy way to create a good edging between your flowerbeds and your lawn.
4. Use Bricks To Create A Fancy Upright Edge
Bricks can be used in a variety of ways to create an edge for a flowerbed. You can either lay them flat or bury them a little on one end to create a fancy upright edging to your flowerbeds. Once again, this type of edging requires no maintenance after it's been installed and will last for many years.
5. Use Thick Concrete Posts To Create A Garden Wall
This type of edging is particularly useful if your garden is on a slope because you can use it to create a wall between your flowerbeds and your pathways. Make sure that you use some mortar to secure the posts so that they stay in place.
Once erected, this type of garden wall should be totally maintenance free.
6. Create A Clean Lawn Edge And Use Plants To Border Your Flowerbed
If you don't mind spending some time to maintain a clean lawn edge around your flowerbeds, this is one way to create a lovely border around them. To begin with, you'll have to use a spade to create an upright clean edge between your lawn and your flowerbeds.
To maintain this edge, it just requires the use of a lawn edger or trimmer to cut back any grass before it encroaches on your flowerbed. Ideally, you want to do this every time you mow your lawn.
Once you have your edge nicely cut, plant some low-growing shrubs around the edge of the flowerbed to give it a nice border. Try to stick to the same variety of plant for a totally cohesive look. Even shrubby herbs such as thyme will work well for this type of border.
7. Use Large Rocks To Edge Flowerbeds Next To Pathways
Flowerbeds that are adjacent to pathways or your driveway don't need a solid edge. For this purpose, you could consider edging the flowerbeds with large rocks. The rocks will hold back the soil and provide a good border between your driveway and your flowerbeds.
This could also be used to edge flowerbeds that are in the middle of lawn areas but because they don't form a solid boundary, you will find that you'll have to be more vigilant in order to stop the grass from growing between the rocks and invading your flowerbeds.
8. Lay A Row Of Pavers Around Your Flowerbed
Pavers or paving stones make an ideal edging for your flowerbeds, especially if the beds are square or rectangular. However, you could also use them for round or irregular shaped beds. You might have to cut some of the pavers to ensure that they fit evenly around the flowerbed.
If you're feeling really inspired, you could even create a narrow path around your flowerbeds using some more of the paving stones.
9. Create A Raised Ring Of Pavers
Here's another great idea using pavers. You can easily create a raised edge around your flowerbed by using two rows of pavers on top of each other. If you place them slight off-center with the top row jutting out just a little, you can create a very effective edge around your flowerbeds.
You'll need to use some cement or mortar to ensure that the pavers are held firmly in place.
10. Build A Wall Of Stone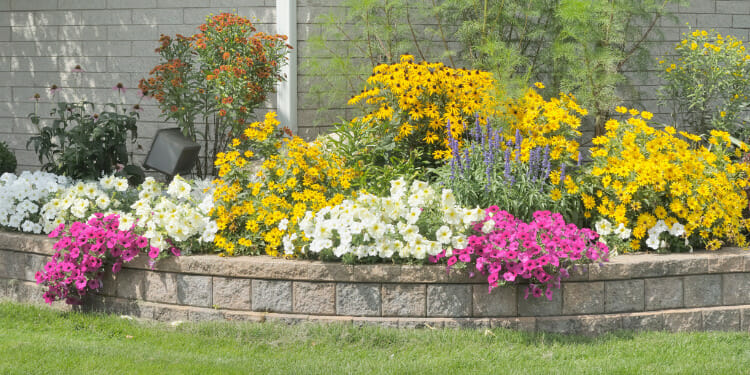 For this flowerbed edging, you need to gather regular sized stone blocks and build a wall with them. The two rows of blocks on the bottom are stood upright while the top row is laid flat to create a ledge.
The blocks will most likely have to be cemented in so that they don't move but this type of edge is incredibly durable and will last for many years without needing any type of maintenance.
The advantage of creating a low wall also allows you to grow some spreading flowering plants that can trail down over the top of the wall.
11. Plant A Low Growing Hedge
While your garden might not be on such a grand scale, this hedging idea is also ideal when used on a much smaller scale like the image below.
So, if you don't mind some regular pruning, hedges make excellent edgings for flowerbeds. To create this type of border, you want to select low-growing hedging plants and plant them fairly close together.
Once planted, regular tip pruning will encourage the hedge plants to grow nice and bushy and you'll find that it won't take too long for your hedge to take shape. Then it's just a case of regular pruning, especially through the warmer months of the year.
12. Lay Some Large Flat Rocks For A More Natural Look
These lovely large, flat rocks create a rustic looking edging that is perfect for naturalized plantings or cottage-type gardens. You might have to spend some time collecting just the right type of rocks but once they're laid, it will definitely be worth it.
13. Use A Row Of River Stones To Edge Your Flowerbeds
This clever idea is perfect for flowerbeds that are adjacent to paths or your driveway. They will help to keep the soil in place and add a nice look to your flowerbeds as well. Before laying these, you might want to lay some landscaping fabric on top of the soil as this will help to discourage weeds from growing through the stones.
14. Use Old Tractor Tires To Grow Your Flowers In
Here's another clever idea that uses old tractor tires to grow your flowers in. You could either leave the tires black or paint them in a color that suits your landscape. The tires will contain the soil and stop the grass from invading your flowerbed. This is a great way to re-purpose a product that might otherwise end up in landfill.
15. Surround Your Flowerbeds With Large Paving Stones
If you don't want to constantly work at keeping the grass out of your flowerbeds, why not surround the beds entirely with paving stones and create a lovely meandering path around your garden.
You could add to the allure by getting some large terracotta pots filled with your favorite plants. These could be strategically placed on top of the paving stones to add even more color in your garden.
If there's enough room, you could even install a seat or two so that you could sit for a while and admire your handy work.
16. Use Treated Timber Planks To Create A Box Around Your Flowerbeds
This is an idea taken from the popular craze of raised bed gardening that many people use to grow their vegetables. You can use the same idea for your flowerbeds.
All you need are some timber planks to create large raised boxes that you can place anywhere that you want to grow flowers. Make sure the timber is treated so that it doesn't deteriorate when exposed to the elements.