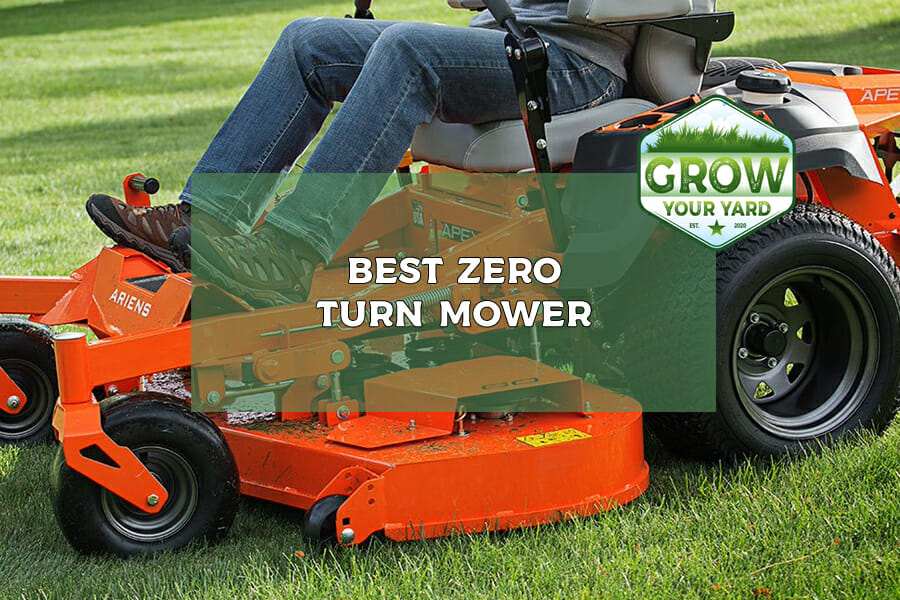 A zero turn mower is every gardener's dream. No more struggling to make a corner when you are riding on one of these lawn mowers.
Anyone that has ever mowed their lawn knows how annoying it can be when it is impossible to maneuver the lawn mower just right. That's an issue you will never know with a zero turn model.
A zero turn mower has a turning radius that is practically zero which means that you can spin and turn on your lawn any way you wish. You'll never miss a spot again.
Do you really need any more convincing? Here are the 4 best zero turn lawn mowers.
Best Zero Turn Mower: My 4 Recommendations
Husqvarna MZ61 Zero Turn Mower
24 HP Kawasaki engine provides reliable startups and high ground speeds
Roll-over protection system (ROPS) ensures safer operation in all...
Fabricated 11-gauge steel cutting deck offers an excellent 61 in. cut with...
Clippings can be discharged, mulched or bagged with a 9-bushel triple bag...
High-back seat with armrests, foam-padded hand grips and vibration...
This Husqvarna ride-on zero turn mower almost feels like a luxury ride. Its adjustable rider's seat has a high backrest and armrests and the front handles are foam-padded with vibration dampeners.
But luxury doesn't mean a reduced performance in this case. It features a 24 HP Kawasaki engine that provides the power to go fast and strong on any kind of terrain.
The Husqvarna MZ61 is an investment that won't disappoint. It is a rugged design made of stainless steel and a roll-over protection system (ROPS).
Thanks to the big wheels, oversized chassis and hydraulics you can sit comfortably, even when the ground is rough. Doing this household chore has never felt so good.
To make things even easier, you can attach a triple bag collection system which is the equivalent of 9 bushels. That is plenty of volume for mulching your grass clippings.
Best Features
Good ROPS
Powerful reliable engine
Triple bag collection system compatible
Simplicity Courier Zero Turn Mower
The exclusive suspension comfort System complete with front or front & rear...
A fully-welded steel frame, thick-walled pivoting front axle, durable mower...
Trusted, durable and powerful engine options from both Briggs & Stratton...
Easily adjust between 13 different height-of-cut positions from 1.5 to 4.5...
Get near commercial quality but with the size and budget of a homeowner's zero turn mower with this Simplicity model. It is designed to be adjustable, comfortable and up to bigger jobs.
Your first advantage with this model is having the choice between which engine you want. You can choose between a Kawasaki or Briggs & Stratton engine, both excellent brands.
The engines are not the only thing that are rugged, the entire machine is. It is made of fully-welded steel, a durable mower deck and it also has ball bearings in the castor spindles.
You also have full control over the exact cutting height. There are 13 different positions you can lock into ranging between 1.5 – 4.5 inches.
A final element that we really like about the Simplicity zero turn mower is that it features a mesh seat. This may seem like a very minor detail but you will be very grateful on those hot summer days.
Best Features
Choice of engine
Durable materials
13 cutting heigh positions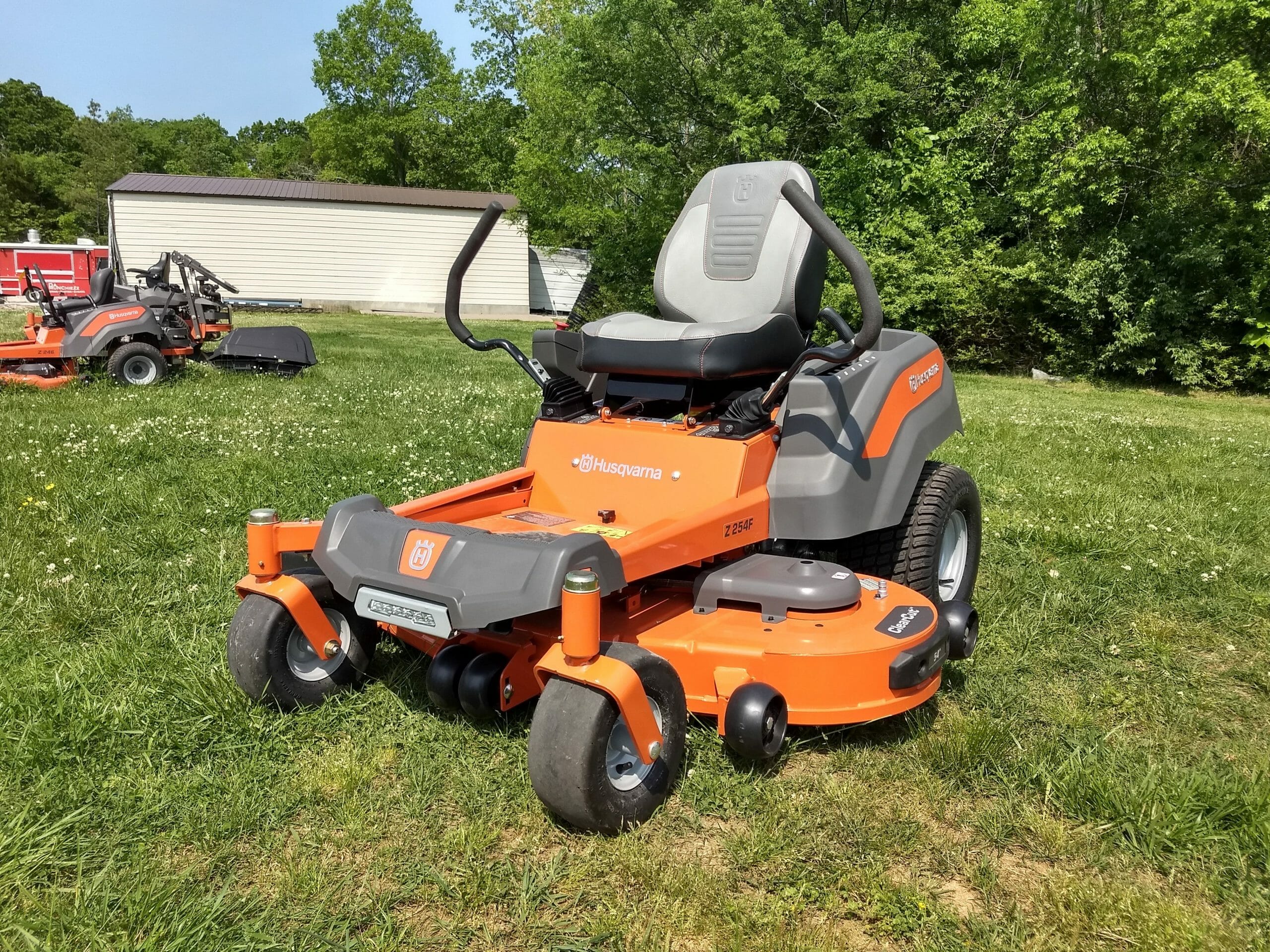 Husqvarna Z254F Zero Turn Mower
23 HP Kawasaki engine provides reliable startups and a max speed of 6.5 MPH
Hydrostatic, no-maintenance transmission is worry free, empowering the...
ClearCut deck offers a best-in-class 54 in. cut and better bagging thanks...
Clippings can be discharged, mulched or bagged (mulching kit and bagger...
Comfortable seat, ergonomic control panel and anti-slip foot area make...
Husqvarna is one of the best brands for zero turn mowers which is why it earns another spot on our top picks. This time, we recommend the Husqvarna Z254F which is one of the more user-friendly models you can find.
It has a super comfortable seat and anti-slip foot area making you feel like you are sitting on a lawn throne. The handle bars are ergonomic and padded so that you have less arm fatigue making the rounds on your lawn.
Yard duty is complete in no time thanks to the extra wide 54-inch cutting width. It comes with a better bagging design so that cleaning up the grass clippings is pretty much unnecessary.
Although you will have to order the bag seperately, we do advise to add it to your cart. With the mulching kit you will have plenty of organic material for your flower beds.
Mowing the lawn has never been this easy. The Husqvarna Z254F has a maximum speed of 6.5 mph so you'll be flying through the task.
Best Features
Comfortable ergonomic seat and handles
Intuitive handling
Fast maneuvering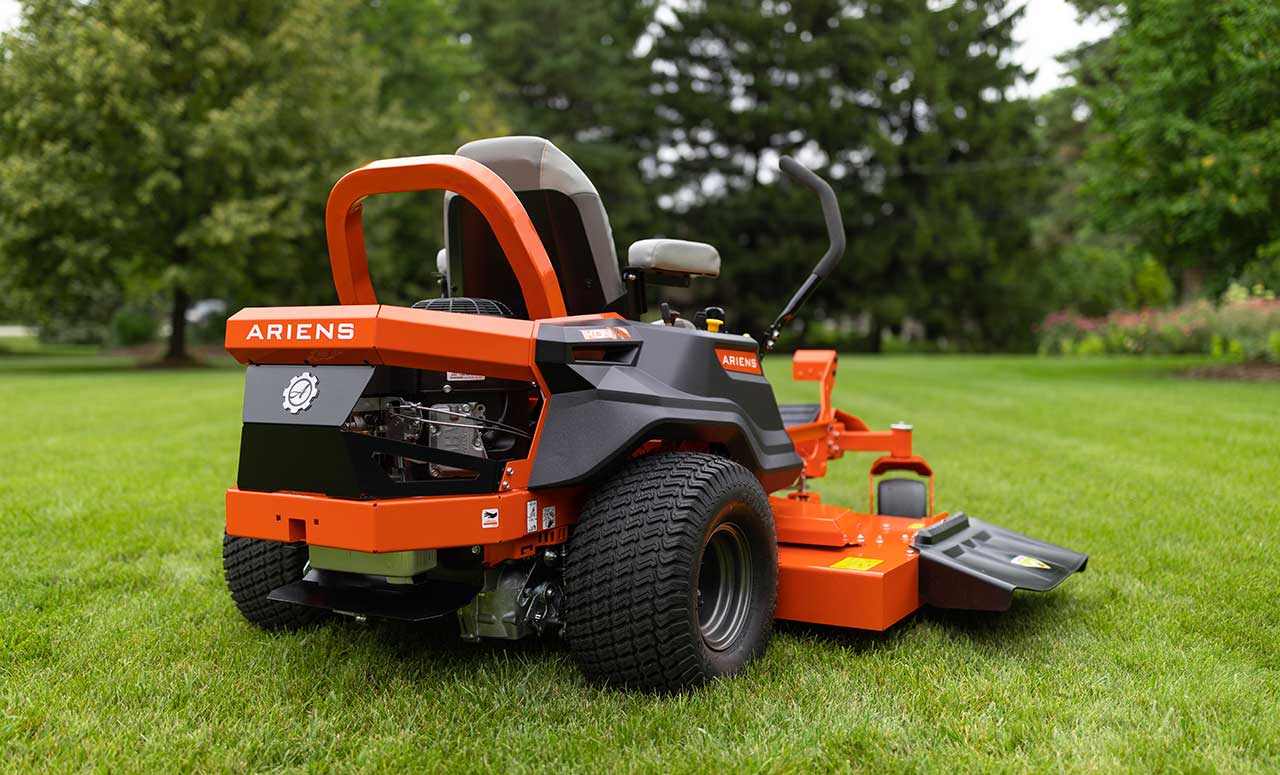 Ariens Ikon-X Zero Turn Mower
23 HP Kohler 7000 series Vtwin
Premium Kohler® 7000 Series Engines for powerful cutting performance
10-gauge, fabricated deck provides excellent cut quality and durability
Best-in-class dial height of cut selection
Foot-operated deck lift for quick and easy adjustment between 13 cutting...
Ariens is somewhat of a legendary yard tool brand. It is a true American brand that has been found in the sheds of families for generations.
The brand has kept with the times and produced this awesome zero turn radius tractor mower with a 23 HP Kohler vtwin engine. It delivers more than enough power for the average homeowner.
The cutting deck is adjusted by a simple movement of the foot. Changing between its 13 different cutting height options works intuitively.
In the rear, you find 18 inch tires that provide you with a smooth ride. At the front there are 11 inch caster tires that make it easier to maneuver through your yard.
We also appreciate the dampening floor which gets rid of most of the usual vibrations on these ride-on mowers. You can expect a pretty smooth ride on an Ariens zero turn mower.
Best Features
American-made
Vibration dampening floor
Easy height adjustment
Zero Turn Mower Buying Guide
There are many different types of lawn mowers and we could write an entire book if we were to cover them all. For now, let's get you up to date on what you need to know about zero turn mowers.
Cutting Width
One of the biggest advantages of a ride-on lawn mower is that you can cover a wider area than with push lawn mowers. Make full use of this with your zero turn mower, too.
We recommend choosing a cutting width between 50 – 60 inches. Stay on the lower end for yard with lots of different features and go to the higher end when you have a large open lawn.
Cutting Height
The more you can adjust the cutting height, the better. However, you will notice that there is a standard that applies to most models.
Most zero turn mowers have a cutting height range between 1.5 – 4.5 inches with 13 different positions. This gives you plenty of precision.
Power
Zero turn mowers have a gas-powered engine. Its horsepower is the best indication of how much power you can expect from this machine.
For most homeowners, between 23 – 25 HP should be enough. You might want to go for slightly higher horsepower when you are dealing with uneven difficult terrain.
Fuel Tank
Besides the engine itself, you should also think about the fuel tank. With zero turn mowers it is not so much about the fuel tank capacity but more about the type of fuel.
If possible, choose a flex-fuel engine which gives you the freedom to choose between gasoline, diesel and LPG. LPG is the cleanest option and also the easiest to keep in storage.
Transmission
This isn't a car but transmission is very important. In a zero turn mower, the transmission works in levels and you want to be sure that there is a smooth transition between each one.
Hydraulic transmission systems are the most comfortable to work with so if this is an option, go for it. It needs to offer you good control to be able to maneuver safely.
Handle Bars
The two handle bars at the front are what you use for steering. You want to be sure that they are a comfortable size for your hands and at a comfortable distance for your arms.
You should also look for a model that has padded handle bars. This will help with reducing the arm fatigue that comes from the vibrations.
Bagging
Having a bagging system attached to your mower significantly shortens the time you need to spend on this chore. You can choose between a bagging system that simply collects the grass clippings or one that also doubles as a mulching bag.
Most brands sell these bags and mulchers separately but they are definitely worth adding on. You're already saving time by investing in a ride-on mower, why not go all the way?
Advantages vs. Disadvantage
As with any product, there are both advantages and disadvantages. These are the main points you need to consider with a zero turn mower.
Advantages
Fast machines
Many are ride-on models
Excellent agility and maneuverability
Wide cutting capabilities
Good for difficult to reach spots of the lawn
Don't require upper body strength
Disadvantages
Not suitable for hilly areas
Risk of rolling over
Steering requires some practice
Don't work well on wet grass
Vibrations
How to Steer a Zero Turn mower
How to steer a zero turn mower is one of the most common questions on these products. You steer using the two handle bars at the front.
This is very different from a circular steering wheel so it takes some getting used to but eventually it will become second nature. It can even feel like you are on an amusement park ride.
When in neutral, the two handle bars are perfectly next to each other in the middle position. You can start moving the mower by slowly pushing both bars forward.
The more you move the bars forward, the faster the zero turn mower goes. By pulling the bars closer to you you are slowing down its speed.
To make turns, which is the best feature of a zero turn mower, you pull closer the bar that is in the direction you want to go to. So, if you want to turn left you pull back the left bar and if you want to turn right you pull back the right bar.
Since zero turn mowers can make very narrow turns, you will have to practice a little to get this movement right. It does take some skill but eventually you will be able to get the mower to move exactly the way you want it to.
Another reason why you should first practice the turns is that these mowers are known to topple over. Their agility comes with the downside of less stability.
This is also why it is important not to go too fast when you are still getting used to a new zero turn mower. We don't want you to fall over and injure yourself.
Bringing a zero turn mower to a halt is simple: pull back both handle bars. In most models, this is the signal that the mower should go into park.
Frequently Asked Questions:
What are the Best Zero Turn Mowers?
Husqvarna is one of the most trusted brands for power tools and yard tools and they also produce excellent zero turn mowers. Their models are known for being powerful, reliable and durable.
Is a Zero Turn Mower Better than a Lawn Tractor?
Zero turn mowers are better than lawn tractors when you need speed and maneuverability. Lawn tractors are a little clunky and have a hard time reaching certain areas but zero turn mowers are known for their agility.
That being said, a zero turn mower is not suitable for mowing wet grass. It also doesn't have the best traction so it runs the risk of toppling over on hills.
How Steep of a Hill Can a Zero Turn Mower Handle?
Generally, hills that are less than a 15 degree incline are okay for zero turn mowers. However, this will all depend on the specific zero turn mower model and the type of terrain.
Summary
Zero turn mowers are a great alternative for mowing your lawn. They are perfect for homeowners with larger properties since they move fast and cover a lot of ground.
Another reason why you might want a zero turn mower is their agility. If you have a yard with many different features, you will be able to get a closer and reach difficult spots with one of these tools.
On the other hand, these are not the best choice for hilly areas because they might topple over. The solution to that is finding a model that has ROPS or a roll-over protection system.
When shopping for a zero turn mower, think about its size, its power and its maneuverability. Which one is the right choice for you really depends on the type of ground you have in your backyard.