If you have a sloping backyard, it's often a good idea to build a retaining wall or two in order to manage the slope and retain the soil. This allows you to create a stepped garden and gives you the ability to incorporate some creative landscaping into an otherwise difficult terrain.
To give you some inspiration as to what can be achieved in a sloped backyard, here are 17 retaining wall ideas.
1. Heavy-Duty Retaining Wall Made From Concrete Paving Stones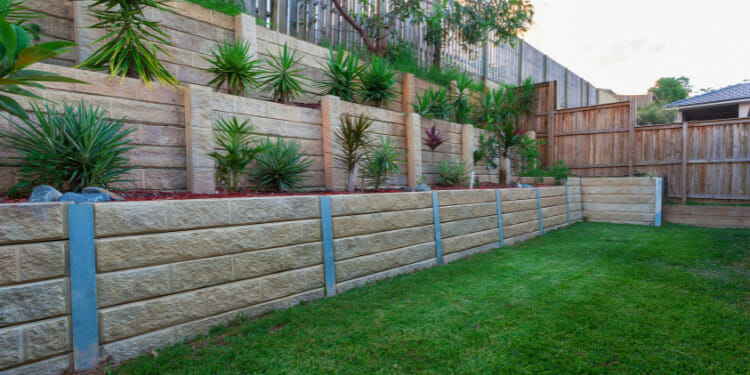 For this type of extreme slope, you need a heavy-duty retaining wall in order to hold back all the soil. This design definitely does the trick with its stepped garden beds that are contained using large concrete paving stones.
As you can see, the varied length paving stones are concreted in to give the wall extra strength and stability. Timber posts are used in the base section to add some interest while the higher sections are secured with concrete posts made from thick paving stones.
It's important to note that a slope as steep as this does require a stepped approach in order to provide plenty of stability. The planting is kept quite uniform and the end result is simply stunning.
2. A Retaining Wall Made From Stone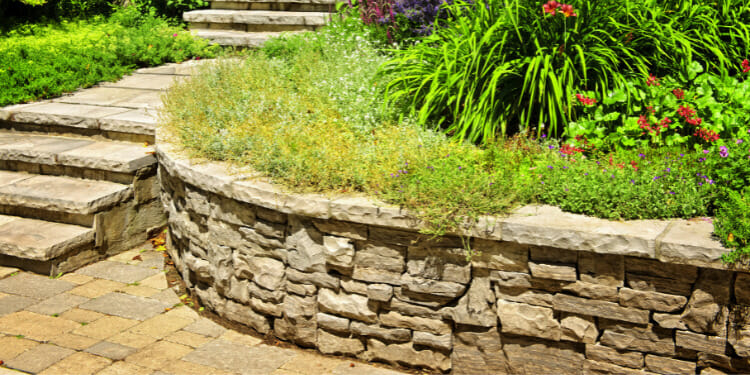 This sturdy retaining wall is constructed from stones in different shapes and sizes. The stones are placed randomly but packed tightly to give a more natural effect. The same type of stones were then used to create a ledge on top of the wall and to create the steps of the path.
This type of wall will definitely stand the test of time and creates a spacious garden bed that can be filled with all sorts of different plants.
3. Cemented Stone Retaining Wall
This design uses the same principle of placing large stones to build a strong wall. However, in this design, the gaps are filled with cement to give the wall extra strength and stability.
The weathered stones blend in perfectly with the natural landscape and the garden beds are heavily planted with gorgeous cottage garden plants.
4. Retaining Wall Using Rough Concrete Blocks
This simple design uses rough concrete blocks that are placed on top of each other. Notice that the blocks are not sitting directly on top of each other but are set back a little with each layer. This gives the wall extra stability and means that no mortar is needed to cement the blocks in place.
5. A Stepped Retaining Wall To Handle A Sideways Slope
In this design, the slope of the yard goes from one side to the other. Notice how the retaining wall follows the slope with stepped sections that get higher as the slope increases.
Although this looks like the retaining wall is at the front of the house, the same principle can be applied to sloping backyards that slope from one side to the other.
6. An Attractive Retaining Wall Using Curved Concrete Blocks
This attractive retaining wall is made using curved concrete blocks. The blocks are offset at each level creating a lovely honeycomb design. This style and type of placement also provides good stability and eliminates the need for mortar in between the block.
7. A Concrete Retaining Wall That Adds A Bit Of Color
In this interesting design, some of the concrete blocks have been colored with oxide to create a more colorful display. Different sized blocks are placed quite randomly for a natural look. If you're more creative, you could lay these blocks in a more defined pattern to allow the colors to flow along the wall in waves.
8. A Concrete Retaining Wall That Supports A Timber Fence
Not all retaining walls are built to enclose garden beds. This particular concrete retaining wall has been build to support the timber fence that sits on top of it. It's a solid retaining wall constructed from concrete blocks that are cemented in to provide stability and strength.
9. A Retaining Wall Made From Stacked Timber Logs
Here's something a little different to the stone and concrete retaining wall designs that we've been looking at. This interesting retaining wall is made from stacked timber logs. This gives it a very rustic look and it forms the perfect backdrop to this delightful seating area.
10. Retaining Wall Made From Railway Sleepers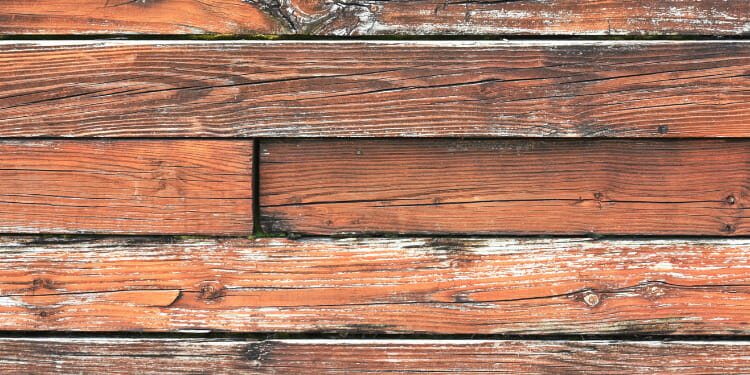 This aged retaining wall is made entirely from large railway sleepers. In this type of design, sturdy upright posts are used at intervals along the wall and the horizontal sleepers are bolted to these upright posts in order to provide stability. This provides a nice, strong retaining wall that can either be painted or stained or left to weather over time.
11. Large Retaining Wall Made From Timber
Here's another example of a timber retaining wall showing the upright posts that are used to hold the large timber sleepers in place. Although this particular retaining wall is on the beach in order to hold back the erosion of the sand, the same type of design is easy to incorporate into a sloping backyard on a much smaller scale.
12. Large Rocks Are Used To Terrace A Gentle Slope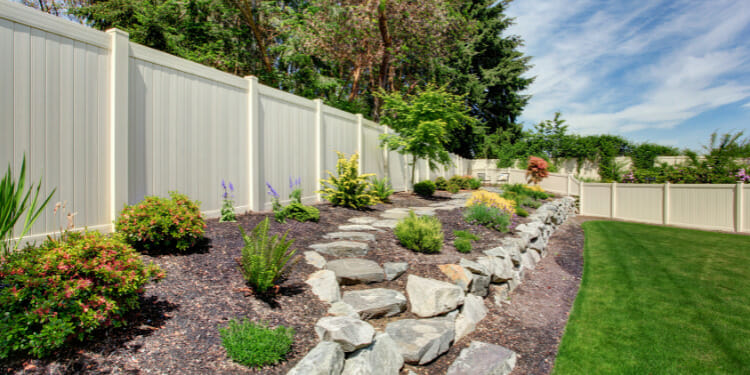 For backyards with a more gentle slope, this design would work very well. Here, large rocks are used to create a couple of terraced levels to make better use of the sloped ground. In addition, a pathway is created on the top level using the same type of rocks. This leads to a lovely little seating area.
The created garden beds are filled with low growing mostly flowering shrubs to add color. Then, the beds are covered with mulch which also helps to keep the soil in place.
13. Build A Matching Fire Pit
Here's a clever idea to bring all the elements in your garden together. The same large rocks that were used to build the retaining wall behind the swimming pool are also used to build a lovely large fire pit on the other side of the pool. This creates the mood for a relaxed seating area.
14. Use Secondhand Bricks To Build A Retaining Wall
One of the more traditional ways to build a retaining wall is to use bricks. This can be made more interesting by sourcing some lovely old secondhand bricks that have a little character. Building this type of wall is fairly simple and you could even color the mortar to make the wall look more interesting.
Then, to soften the look of the wall, plant some ground covers just behind the wall so that these can trail over the edges.
15. Using Bricks And Rocks Together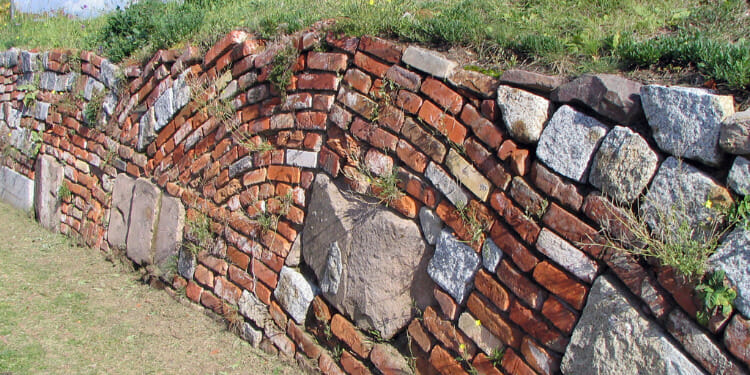 Although you may not want to build a retaining wall as big as this one, this concept can be used to build a smaller retaining wall as well. It combines both old bricks and large rocks to create an interesting look. This is one of those perfect recycling projects where you can combine a range of different materials to create something truly unique.
16. Paint The Retaining Wall A Bright Color
If you're planning on building a brick retaining wall, there's no reason why you can't add a bright splash of color and paint the bricks to make a bold statement. You could choose something bright and cheerful like this bold blue or match the color to one of the trim colors used on the exterior of your home.
If you're feeling really creative or you're a bit of an artist, you could even paint a mural on your brick retaining wall.
17. Low Brick Retaining Wall
Here's another example of a brick retaining wall. This one is just a low wall but notice how the bricks on the top are placed differently to those below. This does add a bit more interest to the design of the wall and also makes a nice seating area or a spot where you could put some large pots filled with colorful flowers or aromatic herbs.
18. Log Cabin Retaining Wall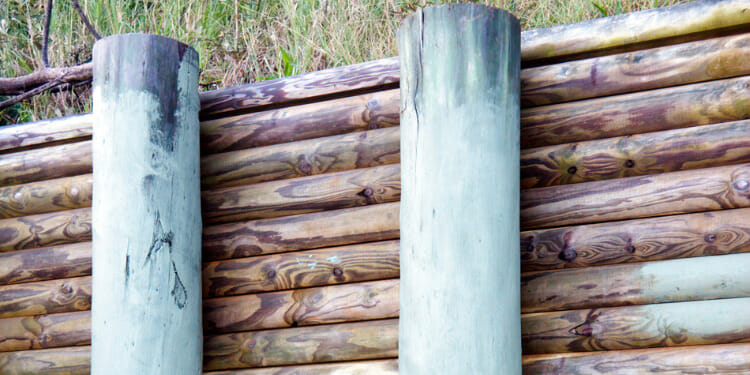 Here's another interesting way to build a retaining wall using timber logs. The horizontal smaller round logs are bolted to the larger upright logs in order to secure them in place. With this type of retaining wall, you could either leave the timber to weather over time or you could paint or stain the logs to keep them looking like new for a longer period of time.
You'll also find that if your retaining wall doesn't have to be as high as this one, you could use much smaller upright posts to secure the horizontal logs to.
19. Use Upright Logs For A Low Retaining Wall
Another way to use logs to make a retaining wall is to use them upright and placed close together. In order to avoid any failures and to stop the wall from toppling over, it's important to secure the treated pine logs to each other.
The best way to do this is to drill a hole through each log from one side to the other. Then, as you construct the retaining wall, poke a long length of strong wire through each log to secure the logs to each other. This should hold them nice and securely and stop them from falling over.