Creating a zen garden in your own backyard need not break the bank. There are plenty of ways that you can create a tranquil and relaxing space in your garden when you're on a budget. So, what is a zen garden?
A zen garden utilizes natural elements in muted color schemes to provide a space for quiet contemplation and even meditation. It's inspired by Buddhism and has been very popular in Japanese gardens for many centuries. A zen garden should instill peace and serenity. This is achieved through the use of natural elements that work in harmony with each other.
Creating a zen garden on a budget is easy if you scale it down to just a small section of your backyard. Choose a spot that's away from the main area and that can be easily screened off.
To start you off, here are 11 zen garden ideas on a budget.
1. Keep It Simple With An Easy Water Feature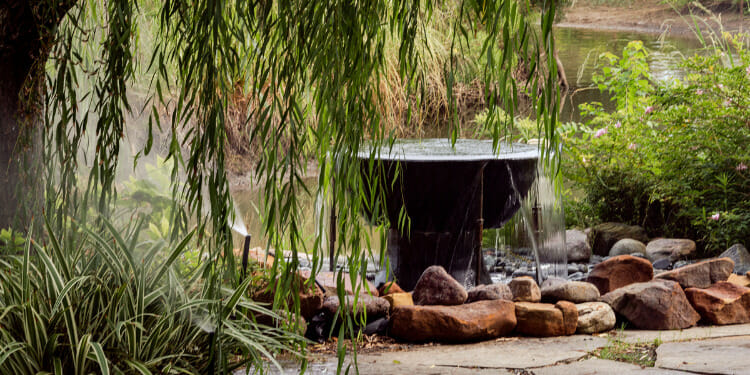 Creating a zen garden is all about combining natural elements in the simplest ways. Adding a water feature is one way to create a tranquil and harmonious space. Choose a corner of your garden that has some space in between trees and green shrubs.
Use large rocks to outline an area for your water feature and then line the interior with gravel. Add a lovely large pot or container that has no drainage holes in a complimentary color and place it in the center of the gravel. Purchase a small solar pump and place it into the pot. Fill the pot with water and wait for the sun to heat the solar panel.
Make sure that the pump only has a small fountain so that not too much water escapes and most of it ends up back in the container. This eliminates the need of having to refill the pot constantly.
Don't forget to add a nice comfy wooden or stone bench so that you have a spot to sit and enjoy the tranquil sounds of the trickling water. Zen gardens are especially appealing for those who love spending time near water, whether it's for engaging in activities like fishing or simply basking in the calming presence of water.
2. Turn A Tranquil Corner Into A Zen Garden
If there's a tranquil corner in your garden that has a couple of large trees, you can easily turn this into a zen garden by adding a gorgeous Japanese maple, a stone lantern and a small bench seat. This creates a lovely spot for sitting and contemplating or just taking in the fresh air and peaceful surrounds.
3. Create A Simple Zen Spiral Using Inexpensive Gravel
If you have a small corner in your yard, you can easily create a simple zen spiral just using inexpensive gravel. Bear in mind, that this does not have to be a large area. Any small, secluded section of your yard will do. You can define the spiral using a chopstick, small rake or similar implement and have this nearby so that you can redefine the spiral during moments of relaxation and contemplation.
4. Create A Zen Meditation Spot In Your Garden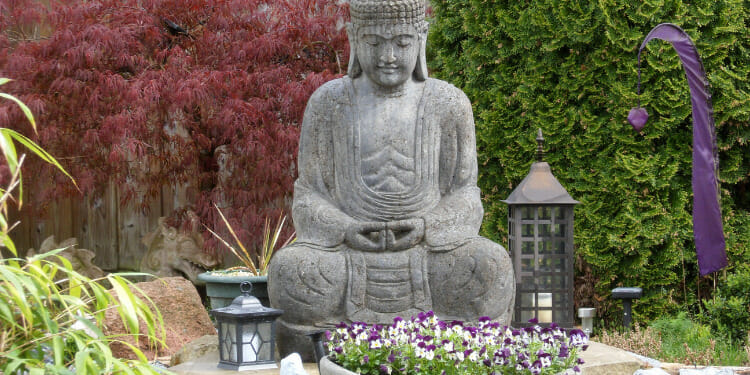 It's simple to create a meditation spot in your garden using materials that you already have or can source quite cheaply. A simple stone Buddha statue surrounded by a few lanterns and some gravel will work quite well.
Add a lovely terracotta bowl filled with pastel-colored annuals and, of course, something to sit on. This could be as simple as a large floor cushion that you can bring out when it's time to meditate. Place some lovely candles inside the lanterns that you can light before your meditation session.
Surround the area with some large rocks (we've got rock garden ideas here!) and screen it off from the rest of the garden with large pots that contain tall-growing green shrubs. Or, you could grow some bamboo in pots that you can use for a screen.
5. Use Rocks And Sand To Create Your Zen Garden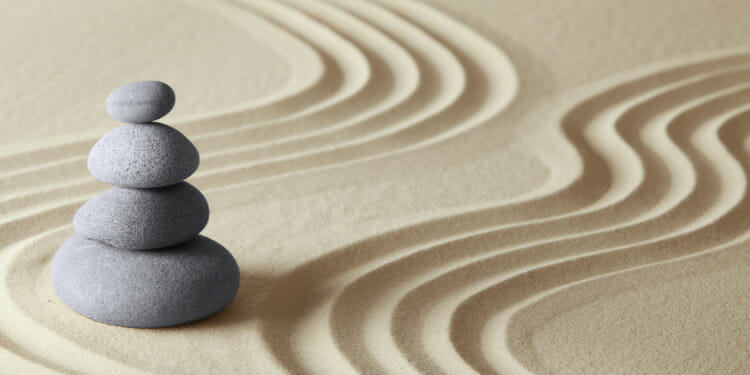 Remember that a zen garden features a collection of natural elements that are grouped together to simulate peace and tranquility. Rocks and sand are ideal for this. Especially, if you stack up a collection of stones.
Stone stacking has been practiced for centuries right around the globe. It symbolizes spiritual harmony and connection with the natural environment. It also takes a good degree of patience to stack the stones so that they don't fall.
You can create a simple zen garden using stacking stones and sand by finding a secluded corner that is possibly surround by lovely green plants. Remember that you want this to be a relatively secluded spot so you may have to screen it off with large plants in pots or maybe some inexpensive bamboo screens.
In the middle of your secluded spot, clear the ground and create a circle using large rocks or stones. Fill the center of the circle with a layer of sand. Then, find some flat stones of different sizes that you can stack. Create a few stacks and place them randomly within the circle of sand. Remember to rake some lines or spirals into the sand first.
The raking of sand is referred to as Karenagare. It's one of the most commonly known symbols of zen gardens.
Add a comfy seat to your zen garden or just use a large floor cushion to quietly sit and enjoy the tranquility.
6. Use Bamboo To Screen Off Your Zen Garden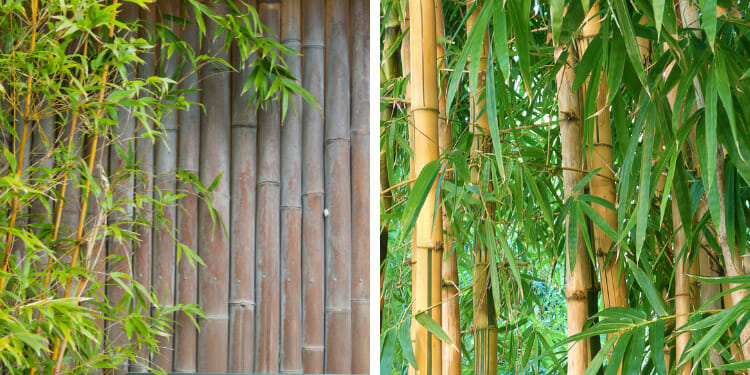 Bamboo is traditionally used in Japanese zen gardens. You can create the same ambiance in your own zen garden by screening it with this lovely natural element. You could either choose to grow some bamboo in large pots or invest in some lovely bamboo screens. Either way, you'll be creating a lovely tranquil spot in your garden that won't cost you a fortune.
7. Plant A Group Of Flowering Cherry Trees
In Japanese gardens, cherry blossoms symbolize the arrival of spring, a time of renewal and a reminder that life is short and constantly changing. If you don't have space in your yard for full-grown cherry trees, consider growing dwarf varieties in large pots.
Group three of these together or place them in a row next to each other. Create a seating area around the trees with some gravel and maybe add a few large paving stones. Add a small table and a couple of chairs or even just a wooden or stone bench.
8. Use A Bamboo Water Feature In Your Zen Garden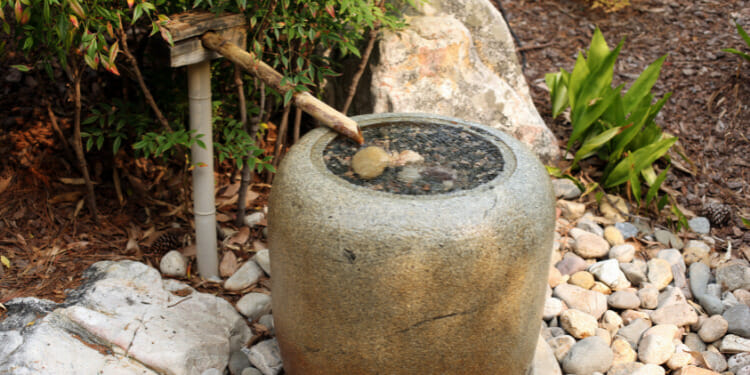 As we know, water plays an important part in a zen garden. Why not create a simpler water feature using bamboo and a large pot. You can fill the pot with gravel or river stones and then just add some water. The bamboo pipe feeds the water feature, while a pump recirculates the water from the pot into the bamboo pipe and back into the pot.
Don't forget to surround your pot with some large river rocks to simulate a creek bed. Add some dwarf bamboo planted behind the pot to finish off the garden.
9. A Very Small Zen Garden Works Too
If you only have a small garden or a very limited budget, even the smallest zen garden in a corner of your yard will work. This tiny spot of tranquility can be created using an old stone table or large flat rock. Add a small stone or concrete Buddha statue and a small water fountain. Decorate your garden with the placement of several river stones of varying sizes. Place a solar light behind your miniature garden so that it's illuminated at night.
You could even recreate this in another spot in the garden as your budget allows.
10. Use Different Colored Gravels To Define Your Zen Garden
You can use a variety of different colored gravels to create the shape and definition of your zen garden. Choose a quiet corner in your garden and create some flowing shapes with different types of gravel. Add a lovely large rock and a weathered Japanese lantern. Keep the planting simple with a few low-growing shrubs that you can shape into mounds. Add a few low-growing grasses and you have a lovely, serene space. You could even add a solar powered fountain to finish the design.
11. Even The Smallest Corner Of Your Yard Can Be Turned Into A Zen Garden
You can transform even the smallest corner of your yard into a zen garden by using just the basic elements. Install a bamboo screen behind the garden. Add some growing bamboo in a large pot. Cover the soil with large river stones or gravel. Add a small stone Japanese lantern and plant a Japanese maple. You could even keep this in a pot.
To finish off the space, add a couple of inspiring solar lights and maybe a solar fountain as well.
How to Make a Zen Garden on a Budget
Choose a small area in your yard or on your patio to create your Zen garden.
Use materials that you already have on hand, such as rocks, pebbles, and sand, to create the garden. If you don't have any of these materials, you can often find them at a local landscape supply store or garden center for a reasonable price.
Consider using a container, such as a large pot or planter, to create your Zen garden. This will allow you to easily move the garden around if needed and will also be more budget-friendly than building a permanent garden bed.
Use a rake or a stick to create patterns in the sand or gravel, such as concentric circles or straight lines. This is a key element of Zen gardens and helps to create a sense of tranquility and order.
Consider adding a few simple plants, such as a small bamboo plant or a low-growing groundcover, to your Zen garden. These plants will add a touch of greenery and life to the garden without breaking the budget.
Consider adding some simple accents, such as a small fountain or a lantern, to your Zen garden to add a touch of whimsy and personality. You can often find these items at discount stores or yard sales for a fraction of the cost of purchasing them new.
Finally, we can also customize outdoor neon signs to add even more fun to your garden. You can easily attach it to an exterior wall, fence, or other flat surface. You can even hang neon signs over existing flower beds. When illuminated, it adds interest to your garden and contrasts with existing flowers. Custom outdoor neon signs come in a variety of shapes, colors, and sizes. So you can create a unique light for your home or garden that reflects your personality.
Final Thoughts
It's easy to create a zen garden even if you're on a budget. You just need to use some of the basic elements that are traditionally used for these gardens. These include sand, gravel, rocks, bamboo and stone structures such as lanterns and even Buddha statues. Add a water feature to increase the tranquility.