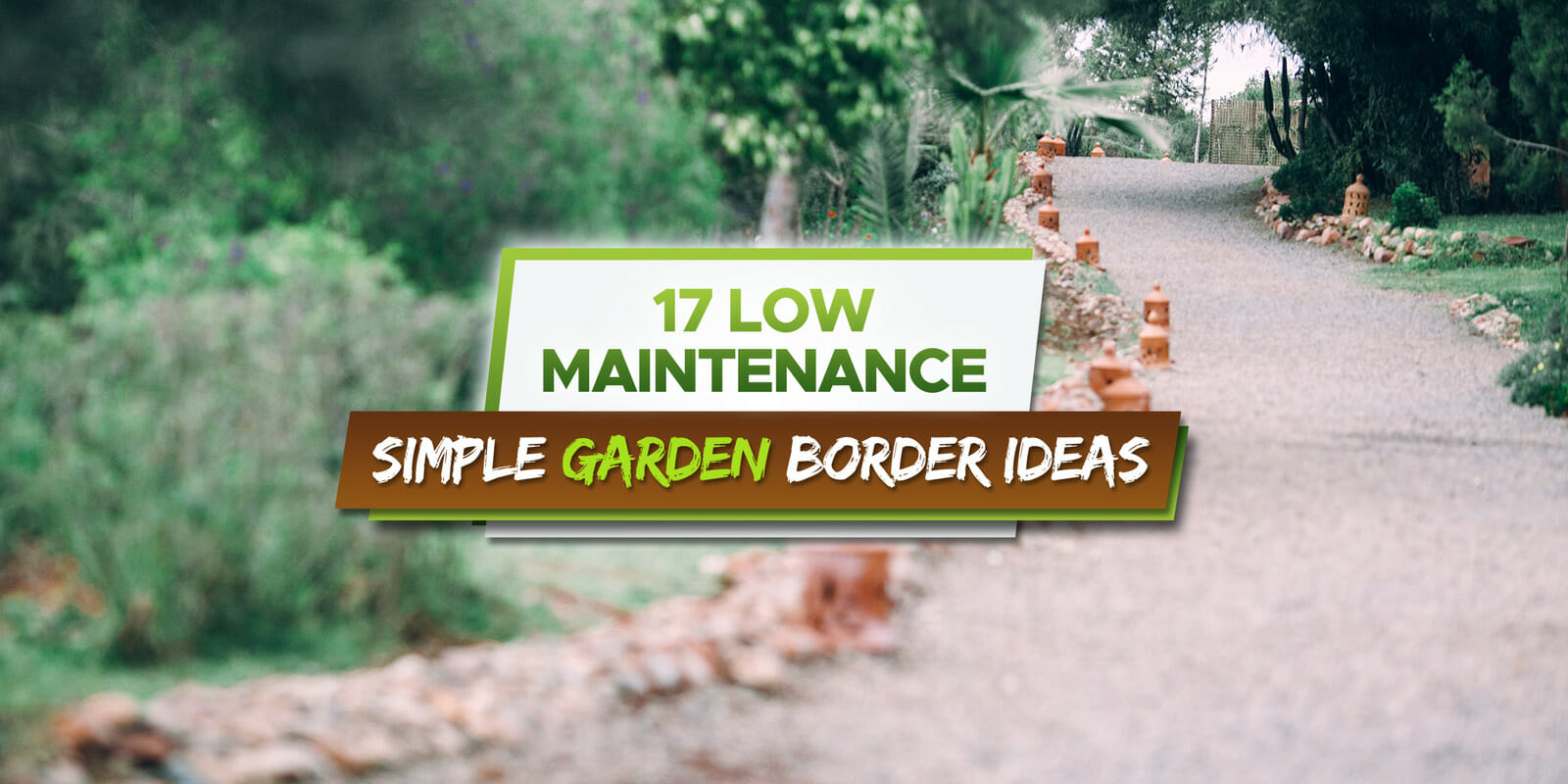 Creating a beautiful garden that's brimming with blooms and also has a lush green lawn is not that difficult. Even if you don't have a lot of time to be out in the garden constantly maintaining it.
There are plenty of low maintenance garden borders that you can use to keep your lawn and your garden beds separated without having to spend hours every weekend weeding. A well-thought out low maintenance garden border can keep your garden looking fantastic without adding extra work to your weekend.
Here are 17 low maintenance garden border ideas that you can use to make your garden pop.
1. Plant Ornamental Grasses
Ornamental grasses are excellent for a low maintenance border. Especially if planted close together. You can find grasses that grow quite tall and others that are lower-growing. These grasses require very little maintenance, too.
All you have to do is give them a bit of a cut back once a year to keep them looking fantastic as a natural border for your garden beds.
2. Plant Dense Low-Growing Shrubs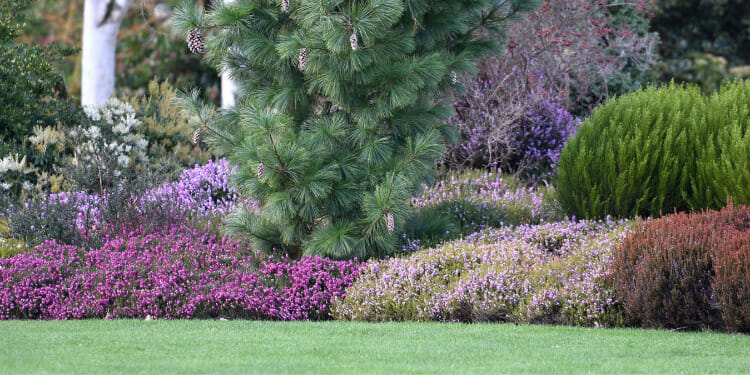 Another good idea for a low maintenance border is to plant dense low-growing shrubs. The idea here is to plant them close together so that they completely cover the soil. This ensures that weeds aren't able to grow and the lawn won't encroach onto the garden bed.
Choose shrubs that have a mounding habit and keep a compact shape. This means that you'll only have to trim once or twice a year to keep their lovely shape.
3. Edge Your Garden Beds With Sleepers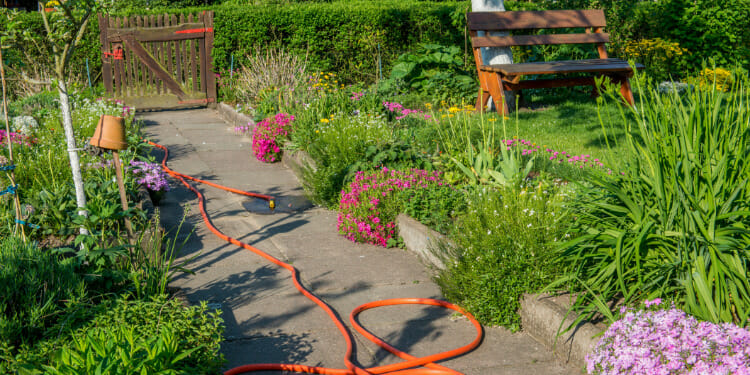 Create a permanent edge between your garden beds and your lawn or pathways by putting in wooden sleepers. When installed correctly, these timber sleepers make the perfect edging for your modern garden beds and will stop the lawn from encroaching into your plants. The bonus is that once installed, these sleepers require no maintenance at all except to keep the plants well-trimmed.
4. Use A Row Of Bricks To Separate Your Lawn And Your Garden Beds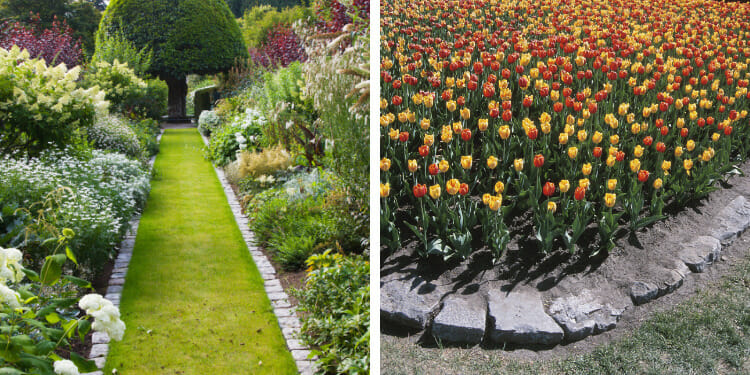 Bricks are the perfect solution to keeping your garden beds and lawn separated. They also provide the perfect mower edge and will prevent the lawn from encroaching into your garden beds.
They're also fairly easy to install and you can even use second-hand bricks that someone in your neighborhood may have left over from a recent build.
5. Install Pavers Between Your Garden Beds And Your Lawn
Another idea is to install a row of pavers between your lawn and your garden beds. You can use either concrete or stone pavers and lay them in a single row or create a narrow path that you can walk along.
Once laid, these require very little maintenance and form a nice neat edge between your lawn and your lovely flower beds.
6. Create A Wooden Border With Short Posts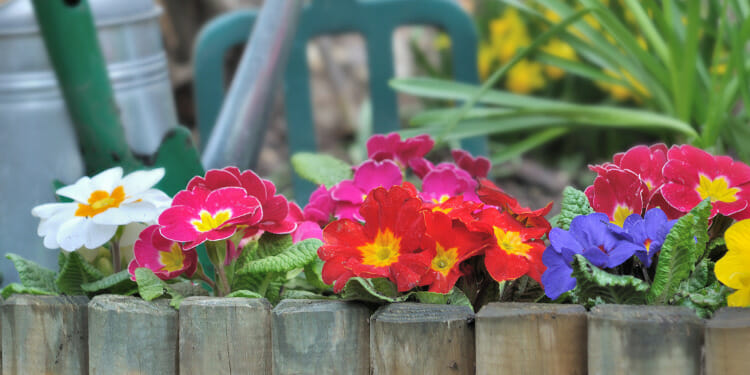 For this border, hardy wooden fence posts can be cut to size and put into the ground side-by-side to create a permanent border between your lawn and your garden beds. Once installed, these require very little maintenance and will keep your garden beds and lawn totally separated.
7. Large Rocks Make A Lovely Natural Border For Your Garden Beds
For a more natural landscaping look, why not install some lovely large rocks along your borders. These will provide a barrier between your lawn and your garden beds. Make sure that you place them as close together as you can so the grass can't encroach onto your garden bed.
Alternatively, you can place them a little further apart and plant dense ground covers between them. This may require a little more work because you'll have to trim the plants so that they don't encroach on your lawn.
8. Use Concrete Edging Along Your Paths
If you have garden beds next to your paths, consider edging them with concrete slabs. These will keep your plants well contained and your paths nice and clean.
The only maintenance that you have to do is to keep the plants nice and trim so that they don't spill over the edging too much.
9. Build A Low Wall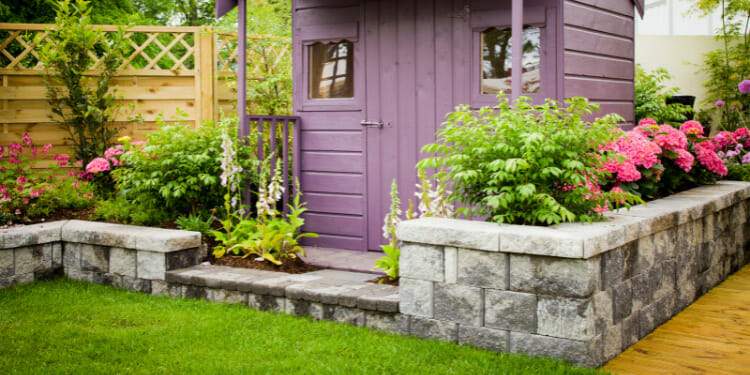 You can also build a low wall between your garden beds and your lawn, or a retaining wall if your gardens sloped. For this, you can use bricks or concrete blocks. This might be a little more labor-intensive to create, but once it's done, it will require absolutely no maintenance and provides a nice edge between your lawn and your flower beds.
10. Build A Picket Fence Around Your Flowers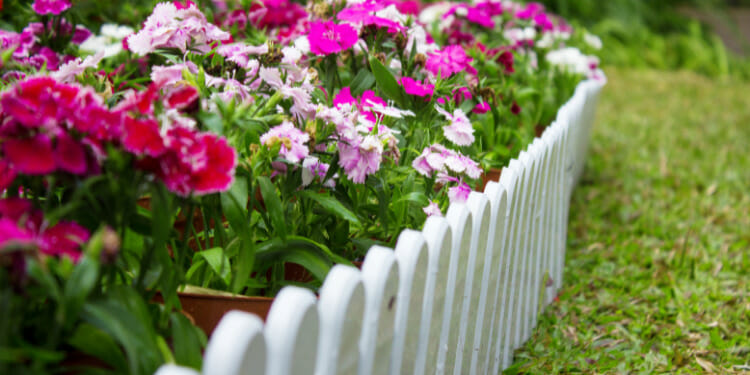 A picket fence makes a lovely border between your lawn and your flowers. It's the perfect solution for people who love cottage gardens. Another idea is, instead of planting your flowers in the ground, plant them in large pots and place them close together.
The fence hides the pots and provides a barrier between them and your lawn. This is a lovely way to add some instant color to an otherwise colorless lawn area.
11. Use Large River Rocks To Create A Wall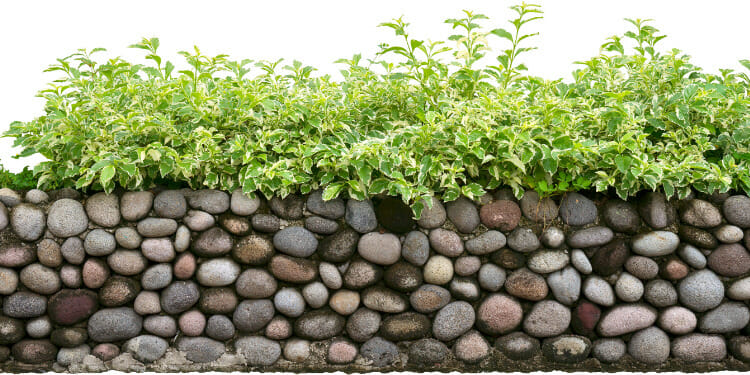 If you're creative and have a little time on your hands, why not create a lovely wall with some large river rocks. It can be as short or as tall as you want depending on whether your garden is on a slope. Not only does this create a nice low-maintenance border but it will also make better use of a sloping garden and keep all the water from washing down the slope.
12. Go Crazy With Pieces Of Slate And Some Gravel
This is a lovely way to create a pathway between your flower beds. All you have to do is get some large pieces of slate and lay them randomly in the area where you want your path to be. Then, use gravel to fill in the gaps. Make sure that you put some sand down first so that the slate has a good solid base.
13. Lay Timber Posts Around Your Garden Beds And Infill With Gravel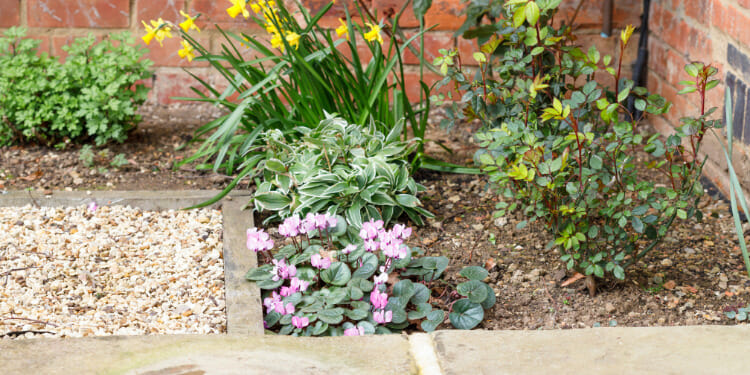 For a more formal garden border, use a combination of timber posts and gravel or small river stones. Lay the posts flat on the ground to create planting beds either beside a path or along the edge of your lawn. Then, create a narrow strip of that you fill with gravel. If you place this along the edge of the lawn, you'll also want to lay some timber posts on the other side to keep the grass contained.
This creates a nice, clean border and you can place some pots of color on the gravel sections.
14. Install Flexible Timber Planks And A Narrow Gravel Path
This is another great idea to keep your lawn separated from your garden beds. All you have to do is edge the beds with flexible pieces of timber. Make sure that the timber has been treated so that it won't rot.
Then, create a narrow path between the garden bed and the lawn. You can even put some pieces of timber along the edges of the lawn area if you want it to be super low-maintenance.
15. Install Metal Edging Between Your Lawn And Your Garden Beds
To help keep your lawn contained so that it doesn't start to encroach on your lovely garden beds, consider installing metal edging that separates the two. There are various forms of this edging available and it provides a good way to keep your lawn and garden beds well-contained.
Once installed, this type of edging requires no maintenance.
16. Use Low-Maintenance Plants In Your Garden Beds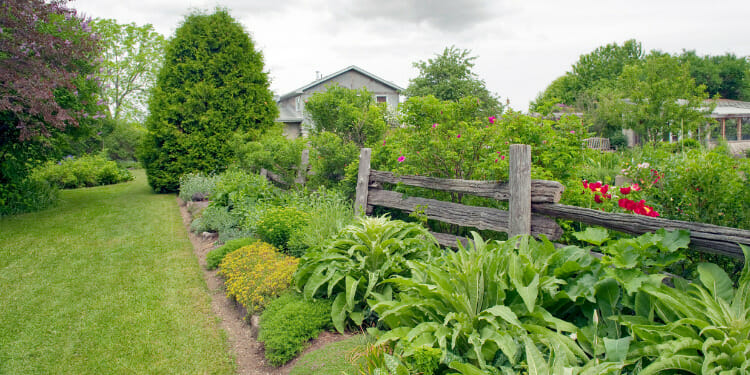 To cut down even further on maintenance tasks in your garden, make sure that you plant hardy low-maintenance shrubs and perennials in your garden beds. Plants that don't require a lot of hands-on care will provide you with a lovely-looking garden without you spending all of your spare time tending to it.
Make sure that you plant multiples of one variety and plant close together. You want the plants to shade out and cover any bare soil areas so that you'll have minimal weeds coming up.
If your garden beds are against a fence or wall, plant taller growing perennials at the back and lower-growing evergreen shrubs at the front edge. Keep the shrubs at the front of the bed or around the perimeter, all the one species as this provides cohesion and gives a more formal look.
You'll also find that these will be much easier to keep in shape as you'll be trimming them all at the same time.
17. Always Mulch Your Garden Beds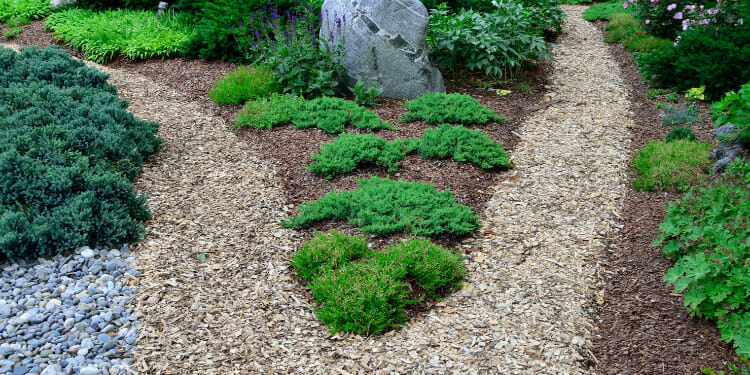 When you have large garden beds that border your lawn, make sure that you keep them well-mulched. This will definitely allow you to cut back on the maintenance. The mulch helps to suppress weeds and also reduces the amount of time required for watering.
You can either use composted wood mulch or, if you have a more formal garden, why not spread some lovely white gravel over your garden beds.
In Summary
There are plenty of things that you can do to ensure that your garden borders are low-maintenance so that you can spend more of your time enjoying your garden rather than working in it.
We hope that these low-maintenance garden border ideas have given you some food for thought.