As a quick bottom line up front, we think Tenacity is an excellent herbicide that stands out against others on the market. It's safe, cost-efficient, and works in just a few days.
Cons
Needs to be diluted
Requires a sprayer
May need to be repeated for stubborn weeds
Sale
Tenacity Herbicide
Tenacity is a systemic pre-emergence and post-emergence herbicide for the...
When applied as a pre-emergent, weeds absorb Tenacity during emergence from...
Target pests: Barnyardgrass, Carpetweed, Chickweed, Clover, Crabgrass...
Active Ingredient: Mesotrione 40%
Date printed on bottle is Manufacture Date, not expiration. Shelf Life: 5-8...
If you are a proud lawn owner then we are sure you know the endless struggle of ridding your precious lawn of stubborn weeds. It can be a tiring and back-breaking process that no gardener enjoys.
That's where herbicides come in. Herbicides are a product that is toxic to specific plants that are sprayed over the affected area to rid them of unwanted weeds.
Today, we will be reviewing a very popular herbicide on the market: Tenacity Herbicide.
In this article, we're going to be looking at this product in detail and show you exactly how to use it so we can help you decide if this is a product that is worth your money.
What is Tenacity Herbicide?
To start with, what exactly is Tenacity Herbicide?
It is a non-poisonous, pre-emergence, and post-emergence lawn treatment that rids your lawn of a wide variety of weeds. You can apply it before the weeds appear as a precaution or after they have popped up to nip them in the bud.
Before we go any further, let's take a closer look at the specifications:
| | |
| --- | --- |
| | Specifications |
| Brand | Syngenta |
| Quantity | 8 fl/oz |
| Active Ingredient | Mesotrione 40% |
| Formulation | Suspended concentrate |
| Shelf Life | 5-8 years |
The active ingredient, mesotrione, is a sulfur compound derived from the bottlebrush plant. It works because the compound enters the plants and stops them from photosynthesizing by blocking a particular enzyme. This is why they are effective on both emerged and pre-emerged weeds.
A big selling point for Tenacity is that it is not poison, so it can be used safely in a garden without disturbing the natural insect or wanted plant life.
How Do You Apply Tenacity Herbicide?
One of the beauties of Tenacity Herbicide is that a little goes a long way, and it's straightforward to apply.
Here is a quick little step-by-step to give you an idea if this type of application would work for you:
Equipment– You will need a pump sprayer, water, and food coloring for this process. This may seem odd, but adding a little food coloring to the mix will help you keep track of which part of the lawn you have already sprayed.
Square footage– The next part requires a little maths because the quantity of water and Tenacity needed depends on the size of your lawn. This is easier with a square or rectangular lawn, but you can make an educated estimate for any parts you can't calculate exactly.
Mixing– Mix the appropriate amount of Tenacity and water, as per the instructions, and add them to the pump bottle with a bit of food coloring.
Application– Working in a regular back and forth motion, spray the entirety of the lawn with the Tenacity mix and allow it to dry.
One downside that we can see with this product is that it does require you to buy a pump sprayer for it to work most efficiently. However, they are relatively affordable, and they do come in handy in many garden applications once you buy them. It's really up to you to decide if this extra expense is worth it.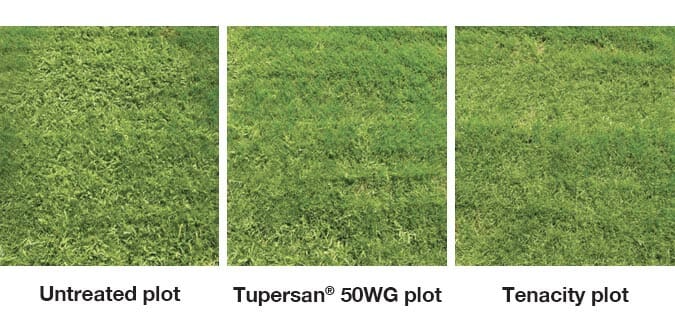 Image Source: https://www.greencastonline.com/products/tenacity-herbicide/turf
What is Tenacity Herbicide Best Used For?
This herbicide is specifically designed to protect ornamental turf grass against weeds of many kinds. Some of the specific weeds it targets are:
Barnyard grass
Carpet weed
Chickweed
Clover
Crab grass
Dandeliona
Foxtail
Goosegrass
Henbit
Yellow nutsedge
Purslane
Thistle
Wild carrot
These are the main culprits, but Tenacity is equipped to deal with 46 different varieties of weeds. Tenacity weed killer.. it does the job!!
Where to Buy Tenacity Herbicide
You should be able to get Tenacity from your local garden store, but if not, it is available online at these retailers:
Amazon: https://www.amazon.com/Tenacity-Turf-Herbicide-8-ounces/dp/B005DUTNF0
Solutions Pets and Lawn: https://www.solutionsstores.com/tenacity-herbicide
Green Cast Online: https://www.greencastonline.com/products/tenacity-herbicide/turf
Tenacity generally sells for between $60 and $70 depending on your retailer.
We think this is quite a reasonable price considering how little you use every time you need to apply. You would need a vast lawn to use up a whole tub at any speed.
Frequently Asked Questions:
Is Tenacity toxic to animals?
No, Tenacity is not toxic to animals.
We would advise that you keep any children or pets inside when you are applying the Tenacity, but once it has dried, it is completely safe for children and animals.
This is all down to the active ingredient and the fact that you aren't spraying poison all over your lawn like other herbicides.
How long does Tenacity take to work?
Tenacity is a speedy worker, so you should be able to see results in 2-3 days.
At first, you will notice the leaves of the weeds will start to go white at the edges until they die. The lawn should grow over the top naturally if you let it do its thing. We recommend leaving the dead weeds to naturally compost and nourish the soil rather than spending forever weeding them all. The whole point of Tenacity is saving you that extra bother.
You may need to repeat a second time, three weeks later, for particularly stubborn weeds.
When should I apply Tenacity?
The beauty of Tenacity is that you can apply it before or after the weeds have started growing.
However, we recommend applying it in the spring or fall onto a completely dry lawn when it comes to seasons. This is to avoid applying it when it's too hot or cold; it should not be hotter than 80 F when you use Tenacity.
Final Verdict
At the end of the day, we recommend Tenacity Herbicide.
It's a super cost-effective, efficient, and safe way to keep your beautiful lawn weed-free all year round. The application process is pretty simple, and you only need to use the smallest amount to cover a large area.
If you want a completely weed-free lawn with minimal effort, you can't go wrong with Tenacity.