An outdoor mosquito repellent system lets you enjoy the warm weather on your patio or backyard, without the disturbance of flying pests. Both attractant traps and mosquito repellers are excellent gadgets for keeping the immediate space around you mosquito-free, and they're essential!
At Grow Your Yard, we are big fans of DynaTrap products and we are not the only ones. There are thousands of positive expert reviews on their mosquito repelling products. However, there are other products that are equally effective in keeping nasty mosquitoes at bay.
Here is our top 5 list of the best outdoor mosquito repellent systems and an extensive buying guide covering everything you need to know about keeping your yard free of mosquitoes.
Top 5 Mosquito Repellent Systems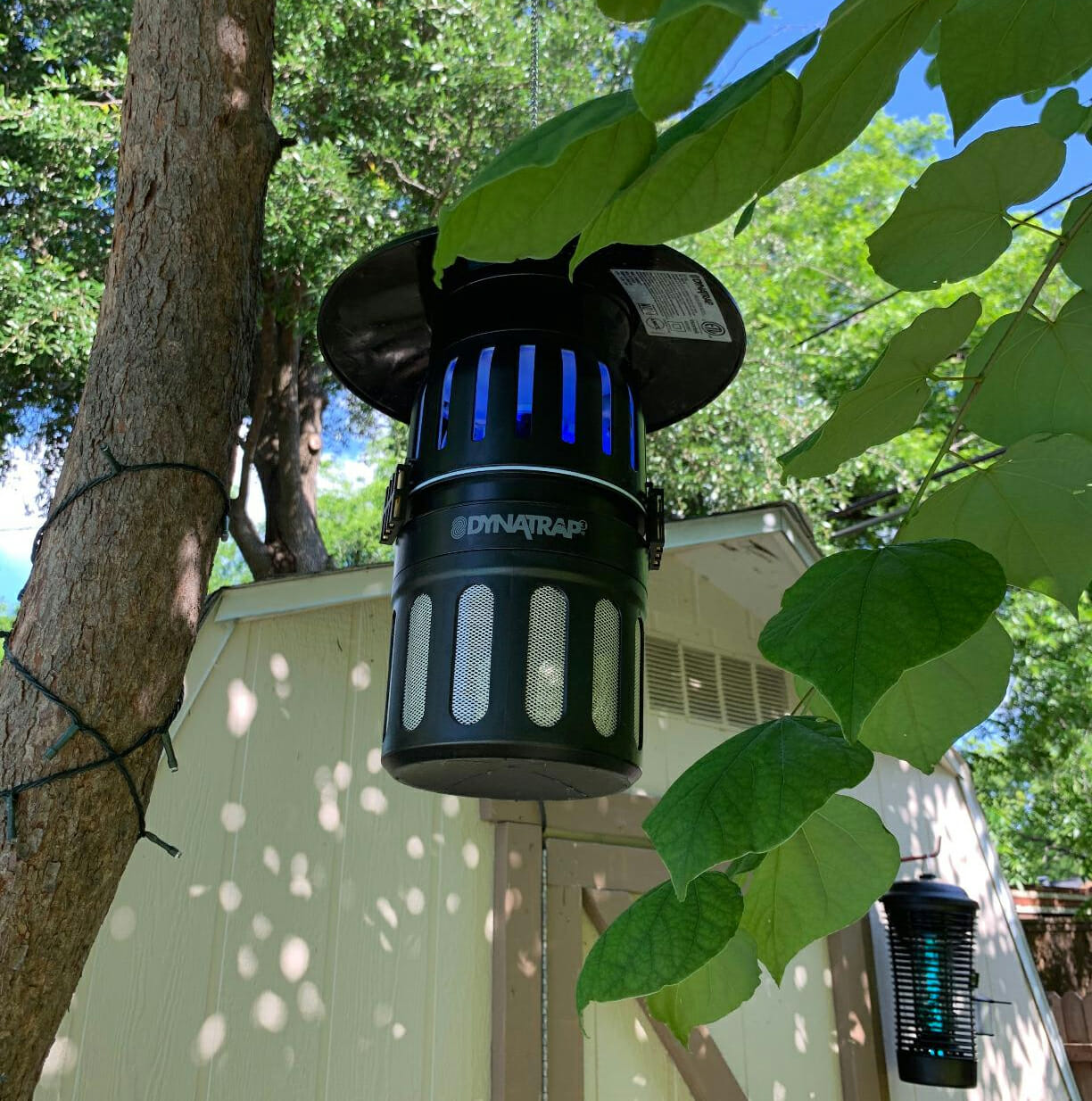 Sale
DynaTrap Mosquito Trap DT1050
What We Catch – Attracts and traps mosquitoes, biting flies, house flies,...
3-Way Protection – The UV light and TiO2 coating lure flying insects to...
Powerful Protection – The trap effectively protects up to 1/2 acre of...
All-Weather Construction – A durable design for indoor or outdoor use....
Discreet Design - The sleek black finish will effortlessly blend in with...
No, this is not a new porch light but it gets extra points for looking like one. Some manufacturers don't understand that mosquito repellent systems can look good and be effective at the same time but that is not the case with DynaTrap.
If guests were to come over they would not even notice the DynaTrap Mosquito Trap. Hang it up on your patio and it looks like an ordinary outdoor light.
The only thing is that it is even better than a porch light because it actually traps flying insects in its direct vicinity. It attracts insects with its blue UV light and by releasing very low Co2 levels, similar to the dosage of a human's exhale.
Once they reach the DT1050 is it game over, the internal silent fan traps the insects and drops them into the bottom holder. All that is left for you to do is empty out the bottom every once in a while.
This is a device that you can keep plugged in overnight. Since it doesn't need any batteries or other type of refill, you can have your outdoor space mosquito free 24/7.
Best Features
Looks like a regular porch light
No refills or charging necessary
Single unit is enough for 1/2 acre area
Sale
Thermacell Radius Zone Mosquito Repeller
EFFECTIVE MOSQUITO PROTECTION: Thermacell Radius Mosquito Repellent creates...
HEAT-ACTIVATED TECHNOLOGY: Powered by a rechargeable lithium-ion battery...
EFFECTIVELY REPEL WITHOUT SPRAY OR SCENT: Repel mosquitoes without DEET...
ADVANCED REPELLENT: Independently tested and EPA reviewed for safety &...
THERMACELL GUARANTEE: Extend warranty to 3 years with registration...
One of the most exciting mosquito repellent systems on our list is the ThermaCell Radius One. This works similar to a scent diffuser but in this case, the scent keeps away mosquitoes.
Inside the compact and stylish Radius Zone Gen 2.0 is a cartridge filled with mosquito repellent. The substance contains similar ingredients to what you can find in mosquito repellent sprays and creams.
What makes this product so great is that your clothes or skin never have to smell unpleasant again. The Radius Zone diffuses enough to keep mosquitoes away without being overwhelming to you.
It is battery-powered and can run for up to 6.5 hours on a full charge, plenty of time for outdoor activities. The battery is rechargeable – all you need is to connect it to a USB charger.
A single cartridge contains enough for up to 12 hours of diffusing. Its long run time together with its small size make the ThermaCell Radius Zone an ideal travel companion.
Best Features
Travel size design
Cartridge and battery last a long time
Rechargeable battery via USB
Thermacell Mosquite Repeller MR540
TURN IT ON… MOSQUITOES GONE: Thermacell MR450 Portable Mosquito Repellent...
HEAT-ACTIVATED: No cords or hassle. Powered by a safe and compact 12-hour...
LONG-LASTING DEFENSE: Unscented repellent mats (3 included) last up to 4...
NATURE-INSPIRED REPELLENT: Our active ingredient is based on naturally...
THERMACELL GUARANTEE: Extend your warranty to two years with registration...
The ThermaCell MR450 is one of the best handheld mosquito repellent products. It is extremely portable thanks to its lightweight wand-like design.
Unlike the Radius Zone, the MR450 uses butane mats. The advantage of this is that you can replace the mats at any time,avoiding any downtime when you need it the most.
You stick mosquito repelling cartridge in the bottom of the device. You can then place it anywhere but keep in mind that this particular model only covers an area of 15 feet.
The ThermaCell MR450 is popular for camping and other outdoor activities. It features a rugged design that can handle a few bumps and falls.
It doesn't take up much space in your backpack and you never have to worry about recharging batteries. Take with you wherever you are by hooking it unto your belt clip – as simple as that.
Best Features
Durable rugged design for outdoor activities
Very lightweight and highly portable
Doesn't require batteries
Sale
Thermacell Patio Shield
EFFECTIVE MOSQUITO PROTECTION: Thermacell Mosquito Repellent Patio Shield...
HEAT-ACTIVATED TECHNOLOGY: No cords or batteries. Powered by a safe and...
EFFECTIVELY REPEL WITHOUT SPRAY OR SCENT: Repel mosquitoes without DEET...
PLANT-INSPIRED REPELLENT FORMULA: Our synthetic allethrin formula is...
THERMACELL GUARANTEE: Extend warranty to 2 years with registration...
Like to spend time out on your porch but cannot stand the annoying mosquitoes buzzing around? Then what you need is the ThermaCell Patio Shield.
This stylish futuristic-looking device is a mosquito repellent diffuser. It spreads an odorless, Deet-free EPA approved mosquito repellent – essentially doing its job without you noticing it is working.
The ThermaCell Patio Shield uses mats which last for up to 12 hours. Whenever it has run out, the mats will turn white so you always know when it is time for a replacement.
A single device is enough to protect an area of 15 feet from invading mosquitoes. This is enough space for you to read a book or share a bench on the patio, without getting disturbed.
Unlike many other mosquito repellent devices, this one actually looks good. It looks more like a decorative accessory than a handy tool that keeps the mozzies away.
Best Features
Odorless, no DEET and EPA approved
Stylish design in multiple colors
Indicates when mats need replacement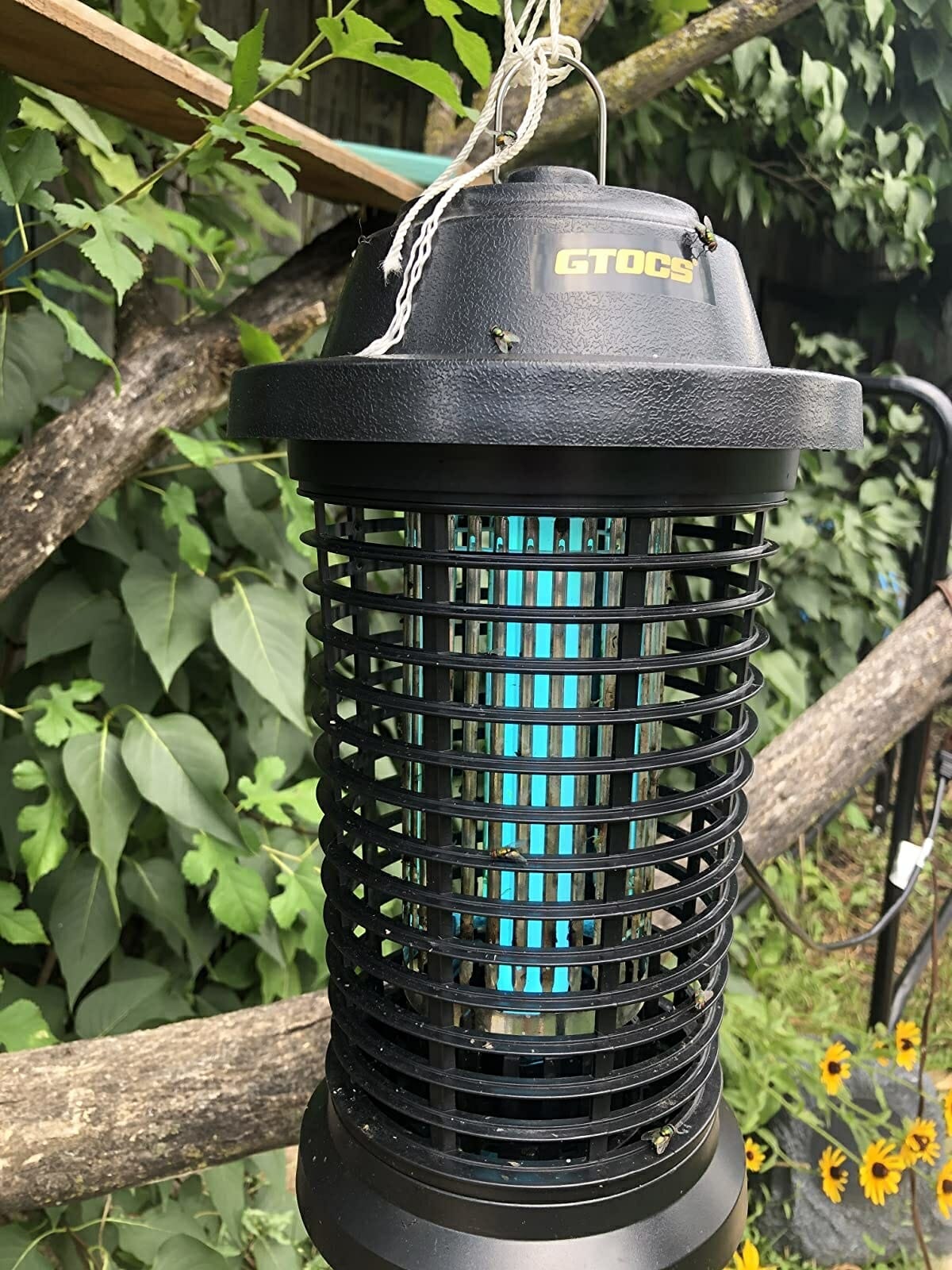 GTOCS Pro Bug Zapper, Waterproof Mosquito Trap
The bug zapper uses the 15W UV light attracts flying insect into the device...
Designed with a ABS housing to prevent people and pet from accidental...
The coverage area of this electric bug zapper is up to 1500 sq ft. Protect...
The mosquito zapper is use physical method to attract and kill mosquitoes,...
There is a removable tray helps to collect the insect debris, simply remove...
The Bug Zapper by GTOCS is a simple but effective mosquito repellent system. Any insect that follows the blue light will instantly drop when they touch the electric grids.
Insects are attracted by bright lights which is why this product performs best when installed in a dark corner. Use the hanging ring to hang it on a corner of your patio so that you can spend cozy summer nights outdoors without being bothered by bugs.
This is a mosquito trap that you can leave outside without a worry. The design is waterproof, weather-resistant and fireproof – everything you need for a durable and safe design.
Another advantage of this GTOCS mosquito trap is that it is easy to clean. All the flying insects are collected in the bottom which you can easily unscrew to empty out and rinse.
This single device is enough to protect an area of up to 1500 square feet. You can also choose to place it closer to you – it is nearly noiseless so it won't ruin the calm ambiance.
Best Features
Simple yet effective mosquito repellent
Easy installation and cleaning
Practically noiseless
Helping You Buy
Want more background information on our top 5 choices? This is what you need to know about outdoor mosquito repellent systems.
Types of Outdoor Mosquito Repelling Systems
1. Bug Zappers
Bug zappers have proven effective for eliminating all kinds of flying insects, including mosquitoes. Most bug zappers attract flying insects with a UV light or release low levels of Co2.
The downside is that it is a non-discriminating device – it also kills flying insects that we don't want to harm like bees and moths. It's also not a preventative method, it only kills those that come into contact with its electrical grid.
2. Mosquito Repellents
Mosquito repellents contain certain scents and chemicals that mosquitoes don't like. It is a good option for keeping mosquitoes physically away from you.
The advantage is that repellents do not harm any critters, is just steers them away. However, not all repellent types are effective and some keep mosquitoes and further distances than others.
3. Mosquito Larvicide
Mosquitoes breed in still standing water which is why gardeners are advised to keep their water features running. If this is not possible, it is a good idea to place mosquito larvicides in the water.
Most larvicides dissolve in the water and essentially smother any mosquito eggs, larvae and adult mosquitoes that come to breed. This may sound intense but these products are safe for both pets and humans.
4. Mosquito Sprays
Not all mosquito sprays contain polluting chemicals. These days, there are also natural sprays, such as neem oil, that do a good job, too.
These natural sprays are a good idea for gardeners that are near still standing water. Some may also help to prevent plant diseases like fungus gnats.
5. Fogging
Fogging is a chemical solution to mosquitoes. A fogging machine (usually quite loud) releases a thick mist which kills of any mosquitoes that it comes in contact with.
The big disadvantage of fogging is that it only works for a maximum of 6 hours. After the chemicals have dried up, any new mosquitoes entering the area won't be affected.
Factors to Consider
Before choosing a product, ask yourself the following questions.
How Safe is the Product?
Mosquito repellent systems should be safe for your health and the health of your pets. Be wary of products with too many chemicals – always check that it is EPA approved.
Will It Affect Other Insects?
Some products kill off more than just mosquitoes. Although they are effective, consider the environmental impact of potentially killing other flying insects like bees.
Does It Need to Be Portable?
If you need a mosquito repellent for outdoor activities you want a product that is very portable. In this case, choose something lightweight, sturdy, compact and with no risk of leaking or catching fire.
How Much Area Does It Cover?
Most product descriptions will mention how big of an area the product covers. Take a look at this area size and consider where you will be placing it.
A small device may be enough to cover your outdoor sitting area but for larger areas you need a larger device.
Is It Disturbing?
Depending on the type of device, an outdoor mosquito repeller could be disturbing. Some are extremely bright, make noise or release an unpleasant scent. Choose the one that keeps you comfortable.
What Doesn't Work
There are many products out there that claim to work against mosquitoes but as you may already guess, they are not all as good. Some products simply don't work, despite their convincing advertising.
Perhaps the most surprising failure is citronella candles. Citronella candles rely on the fact that mosquitoes do not enjoy citrusy scents.
Unfortunately, their dislike of citrus scents does not necessarily keep them away and so neither do citronella candles. In fact, the smoke that comes off a candle might be a better deterrent than the scent.
Another mosquito repelling product that does not work are devices relying on sound. The claim is that these devices emit a sound at a wavelength that is inaudible for humans but disturbing for mosquitoes.
There is no scientific evidence that backs up these claims. It is also rather convenient that there is not easy way for consumers to confirm whether it works or not.
Mosquito repelling accessories such as bracelets and patches are the final type of product that don't work. You might find that you won't get bitten in that particular area but these products are not strong enough that you entire body is protected from mosquito bites.
How to Prevent Mosquitoes in Your Yard
If you notice an unusually large number of mosquitoes in your garden, there is a chance that they have found a comfortable breeding ground near your house. Getting rid of these breeding grounds will make a big difference in how much you get bitten.
All mosquitoes need to breed is still standing water and very small amounts are already enough. Below is a list of items you might find in your yard that could potentially become breeding grounds for mosquitoes if you don't remove the water from them.
Leaf litter & debris
Compost
Plant pots & trays
Bird baths
Furniture & BBQ covers
Parasols
Awnings
Whenever there has been a rain shower, go out into your backyard and check these common items for still standing water. Throw out any leftover rainwater as soon as possible.
Frequently Asked Questions
What Is the Most Effective Mosquito Repellent?
Although there is no 100% effective mosquito repellent, most varieties available on the market do their job well. Just choose the one that you find most pleasant.
How Can I Stop Getting Bitten by Mosquitoes?
Some people complain of getting bitten more than others and unfortunately there is not much that can be done about it other than wearing mosquito repellent. If you do not want to put any mosquito repellent on yourself, consider sitting in an area protected by an outdoor mosquito repelling device or near a fan.
What Do Professionals Use to Kill Mosquitoes?
Professionals may employ a variety of methods to kill mosquitoes, using both chemical and natural options. Before considering any of these options for your own backyard, consider its safety, effectiveness and cost. Not all professional methods are suitable for home use.
Summary
Mosquitoes are very annoying and it can be difficult to find the right device that offers protection. The truth is that there is nothing that offers complete protection from mosquitoes but some do a better job than others.
Bug zaps and mosquito repellent devices remain the most effective choices. DynaTrap offers great varieties but there are other brands with equally good options, too.
Remember that these products only work to a certain extent. The best way to keep mosquitoes away from your yard is by eliminating any still standing water.