Creating an inviting and attractive patio area when you're on a budget might sound like an impossible ask but this doesn't have to be the case.
You see, it's not the actual materials that you use that will create a stunning patio but rather, how you position and lay them. Even if you can only afford the most ordinary pavers, you can still create a beautiful and stunning patio that you will be proud of.
Here are some of the best cheap patio paver ideas that you're ever going to come across.
1. Create An Interesting Pattern With Different Sized Brick Pavers
Using different sized brick pavers can allow you to create an interesting design that looks great. You'll find that the bricks will be fairly inexpensive because they're not a uniform size and shape.
To create this type of design, it will help to arrange the bricks first before you cement them in. Or, you could just forego the cementing all together and just position them as closely as you can and fill any gaps either with sand or fine gravel.
For this to work well, you'll have to ensure that you have a flat and solid surface to start with.
2. Lay Brick Pavers At Different Angles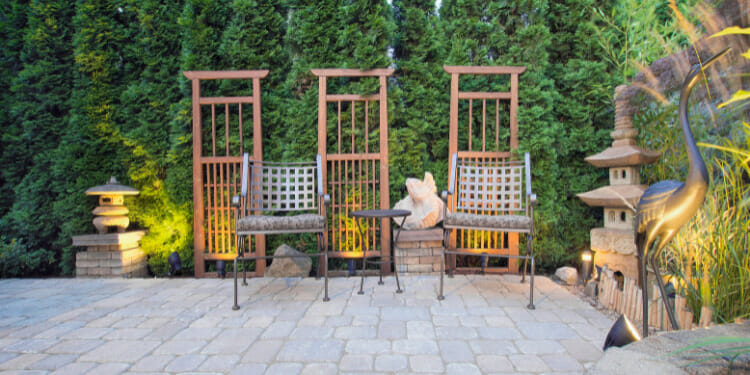 Here's another interesting design that uses brick pavers of different sizes. In this design, the pavers are laid at different angles to create an interesting design. You'll also notice that the stone lantern structures use the same types of bricks to create a more cohesive look.
In addition, large rocks in similar colors are placed strategically in order to bring the whole look together.
3. Use A Seemingly Random Placement For Your Paving Bricks
In this design, it looks like the placement of the brick pavers is totally random. However, you'll probably find that it took a bit of time and effort to put this design together. You can also clearly see that any gaps between the pavers have been filled in with sand.
The result is a stylish looking patio that works well with the surrounding garden beds and the side of the house.
4. Lay Different Colored Brick At An Angle
This interesting design uses different colored bricks instead of different sized ones. Plus, the bricks are placed at an angle to create a more interesting look. You could easily use second hand bricks to create this type of look. This would make the entire construction even more budget wise.
Keep an eye on new builds in your neighborhood to see if there are any bricks left over that you might be able to pick up for cheap. It really doesn't matter if they're the same color or not if this design is one that you'd like to recreate.
5. Intersperse Your Pavers With A Hardy Groundcover
Rather than jutting your pavers hard up against each other, you could easily leave small gaps between them that you can plant with a hardy groundcover to create this more rustic looking design.
Many different low-growing herbs such as chamomile, would work quite well for planting in between the pavers. Once you've laid the pavers, just scatter some seeds into all the gaps and cover them very lightly with some sand. Before too long, you should have little plants cropping up in between the paving stones.
6. Create A Spiral Centerpiece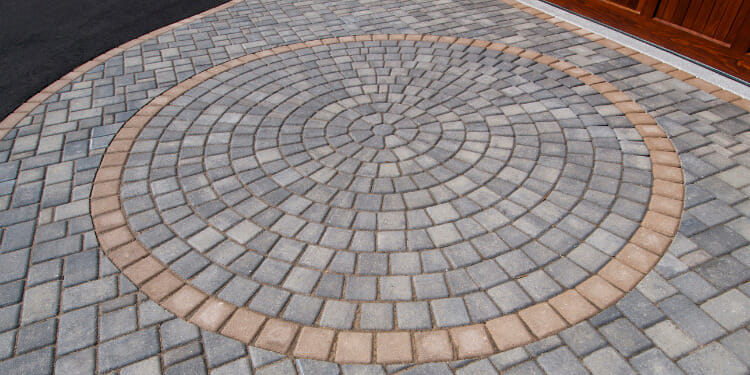 Once again, this design uses cheap brick pavers that have been laid in an interesting design. The central spiral creates interest and draws the eye. This would be the ideal spot to place your patio chairs and table.
For this design, you might have to hire a brick cutting machine but it would definitely be worth the cost and effort if this is the end result.
7. Unleash Your Inner Artist With This Mosaic Design
If you have a bit of a creative streak, you might like to consider creating something like this mosaic design. Once again, the design uses small, inexpensive paving stones in complimentary colors that are laid in an overlapping, semi-spiral type of design.
To create something like this, you're going to need patience and a keen eye. You might even want to sketch your preferred design out on paper first so that you have a blueprint to refer to. However, the end result would definitely be worth your time and effort.
8. Go For A Bold Color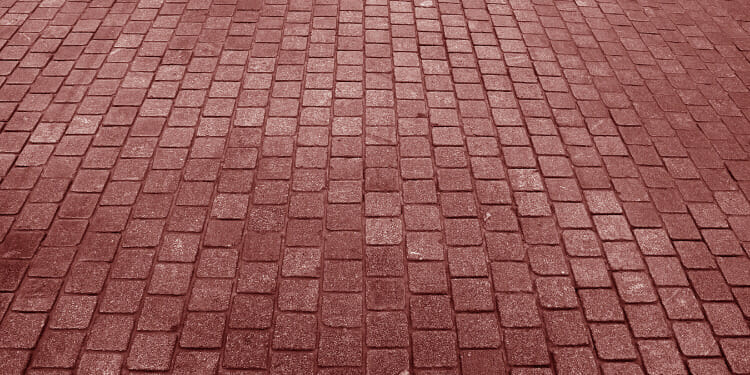 This design looks simply stunning but it's just created using inexpensive concrete paving stones that have been colored with oxide. To add to the bold effect, even the cement between the pavers has also been colored.
This type of design would be striking in a small patio area that is surrounded by attractive garden beds and adjacent to your house.
9. Use Cheap Concrete Pavers Interspersed With Fine Gravel
Both concrete paving stones and fine gravel are quite inexpensive but look at the result when you put them both together in an evenly spaced geometric pattern. While it might look just a little bland in gray, consider the difference if you decided to use a bolder color.
Or, you could use mainly gray concrete pavers but grab a few brightly colored ones and place them randomly within the pattern. You could even consider using a different colored gravel to place in between the pavers.
10. Keep It Easy And Simple
Even a fairly basic design using bricks or concrete pavers can look quite stunning when you dress it up a little with functional and stylish accessories. Just adding a few plants and some nice comfy furniture with bold cushions can give your patio area a magazine-worthy look.
11. Crazy Paving With Flagstones
Flagstones are another inexpensive option for patio pavers. They can be laid randomly to create an interesting design and the gaps filled in with fine gravel or even small river rocks.
For a smoother look, you could even use concrete in between the pavers with several small stones set into the larger gaps.
12. Soften The Edges With Colorful Flowers
Even a plain looking patio made from gray concrete pavers can be made to look like something special when you soften those hard edges with beautiful colorful flowers. Sometimes, it's the accessories that you add to and around your patio that can make all the difference.
13. Consider Using Exposed Aggregate Concrete
Exposed aggregate concrete is another inexpensive patio option. However, if you don't want to use this for the entire patio surface, you can also get paving stones that are made from the same materials.
You can place these in an interesting pattern but spaced apart and then fill the gaps with fine gravel. This would make a relative budget-friendly patio that is still quite attractive and can be dressed up with accessories.
14. Create A Geometric Design With Different Colors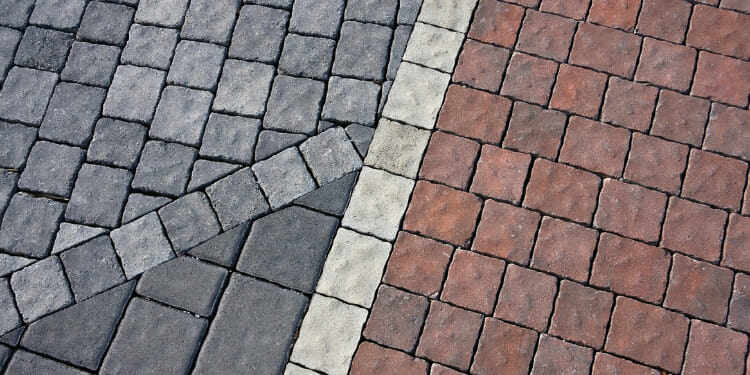 Although this design has been used on a pathway, you could easily incorporate something similar into your patio. Consider creating a "color wheel" as the basis of your patio but just use a couple of complimentary colors that you alternate with the white or similar concrete pavers separating each color section.
If your patio is large enough, you could even use this type of idea to create different "rooms" by using different colored concrete pavers in each section and separating them with just one line of white or lightly colored pavers.
15. Compliment Your Patio Area With A Fire Pit And A Low Wall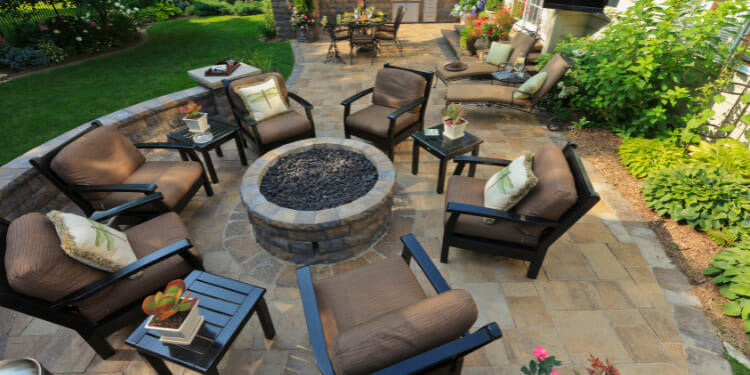 Here is how you can turn a patio laid with Inexpensive concrete pavers into something truly special. The same pavers have been used to create the central fire pit and also a low wall to create a separate space for entertaining.
You can easily add to the ambiance with inexpensive seating that is made more special with the addition of large, soft cushions and a few pretty plants.
16. Edge The Bricked Patio With A Row Of Bricks In A Complimentary Color
This small patio area that has been laid with inexpensive brick pavers has been made all that little more special with the use of a single row of bricks in a complimentary color to create a defined edge.
Notice how the brick pavers consist of a few different colors and one of the colors has been picked out to use for the paved edges. This gives the whole design a more cohesive look and makes the patio look rather special.
Frequently Asked Questions
What are the cheapest paving options for a patio?
Probably the cheapest pavers that you're going to be able to buy are either brick or concrete pavers. If you don't mind spending the time cleaning them, even second hand bricks could easily be used as pavers to cut down on the cost.
Which patio pavers are the easiest to lay?
Concrete pavers would have to be the easiest to lay. This is because they're made from molds which makes them totally uniform in size and shape. On the other hand, you can also get bricks that are uniform in size and these can be used to create interesting designs.