Do you know that intensely satisfying feeling of a perfectly manicured lawn? Having the best battery powered weed eater helps you get that feeling over and over again.
These multifunctional lawn tools make sure every weed is gone, each edge is neat and the blades are an even size.
Are you wondering why you need a weed eater when you already have a lawnmower? If you don't mind your lawn looking a little uneven, then you are right and might not need this extra tool
However, if you are a perfectionist and don't like your grass to take over other sections of your garden, a weed eater is your friend. It gives your lawn that professionally maintained look without you having to call anyone in.
Best Battery Powered Weed Eaters: The Top 5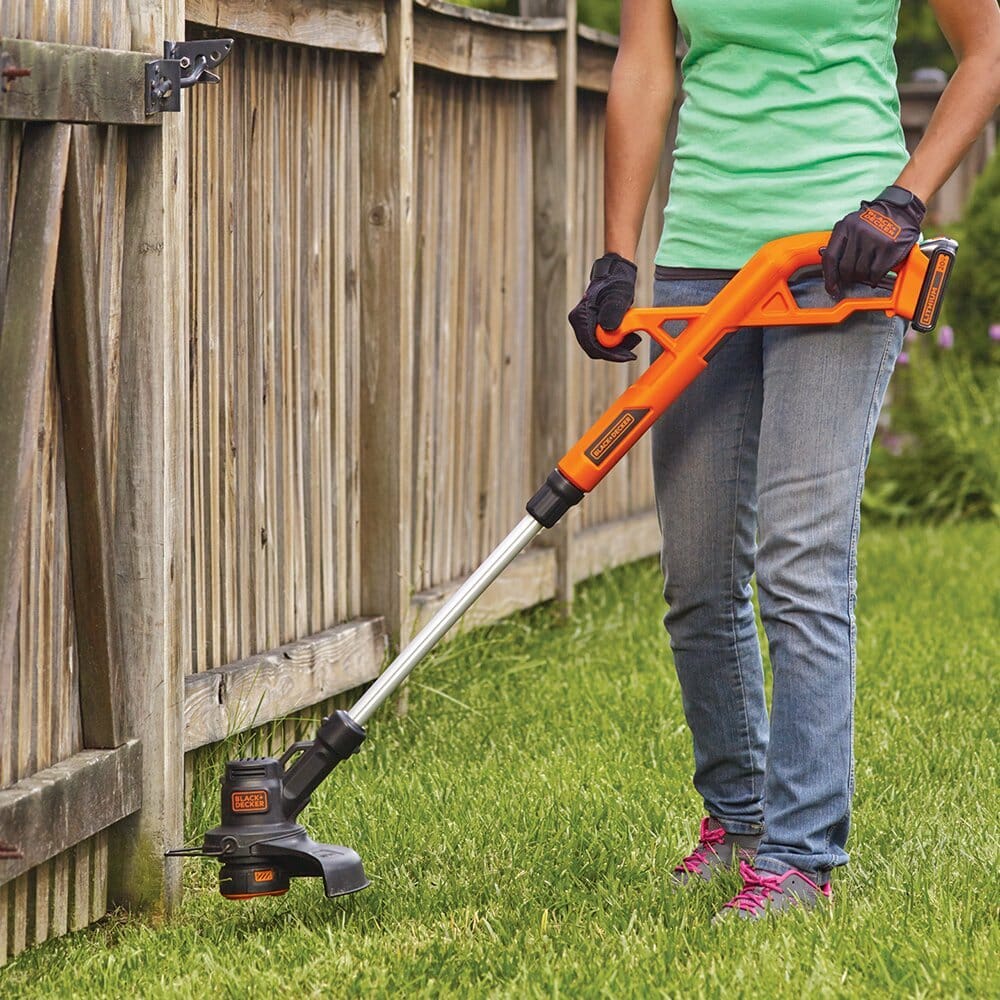 Sale
Black+Decker LCC222 Weed Eater
2IN1 DESIGN – Easily rotates 180 degrees from a cordless string trimmer...
ADJUSTABLE HEIGHT AND SOFT-GRIP HANDLE – Provide convenient, customizable...
AFS AUTOMATIC FEED SPOOL – Continuously feeds trimmer line without...
DEBRIS REMOVAL – Sweeper is ideal for clearing driveways, sidewalks,...
QUIET OPERATION – Keeps noise to a minimum while you work.
Get to work on your front yard with the Black+Decker LCC222 because you have never kept it looking this good with so little effort. This is the best battery operated weed eater and blower combo which takes care of all the unwanted leaves and debris in your yard.
What is the lightest weed eater I hear you ask? This could well be it. The blower weighs 3.7 lbs and the weed eater 4.5 lbs making them a comfortable carrying tool for anyone of any age and build. It has a comfortable handle and works intuitively.
If you have worked with a string trimmer before you may know how annoying it can be to have to bump the tool to get the spool to come out. And then it doesn't even always work!
You won't have that problem with the Black+Decker string trimmer because the spool is fed automatically – no bumping needed. This lets you work more efficiently and reduces the chance of damaging the head.
Get everything you need in a single package by buying the 20V kit with 2 batteries. This already includes the charger and an extra spool so you are ready to get gardening.
Best Features
Full set including string trimmer, edger and blower
Automatic feed
Lightweight and minimal noise
Sale
Worx WG163 Weed Eater
[TRIMMER & EDGER 2-in-1] Easily converts from a string trimmer to a wheel...
[INSTANT LINE FEED] Innovative push button Command Feed spool system for...
[SAME BATTERY, EXPANDABLE POWER] The same battery powers over 75+ 20V, 40V,...
[BATTERIES INCLUDED] 2 powerful and lightweight 20V Power Share MaxLithium...
[HEAD TILTS 90°] So you can trim and edge on sloped terrain, and get to...
The Worx WG163 is a great choice for those with lots of flower beds. It comes with an adjustable spacer guard letting your cut weeds near other plants without actually damaging them.
On top of being a safer choice for plants, it is also a good choice for gardens on uneven land. The head can tilt up to 90° which gives you better access to tough to reach spots.
If you are already familiar with Worx power tools then you know that their batteries work for all their tools. The Worx WG163 weed eater comes with 2 20V batteries but these are suitable for other tools, as well.
If you have a 40V battery from the Worx powershare range, then you can double up on the run time of this string trimmer. This is a great cost-saving feature of this reliable brand.
The run time isn't the only thing that doubles up. With a simple click you can convert the string trimmer into an edger which will give you that perfectly aligned lawn.
Best Features
Quick switch between string trimmer and edger
Part of Worx Powershare range with interchangeable batteries
Tilting head with space guard
Sale
Greenworks 12-Inch Cordless Weed Eater
24V STRING TRIMMER – Provides 20% more power and 35% more run-time to...
12" CUTTING PATH - .065" line, auto feed head for quick and easy line...
TRIMMER / EDGER (2-IN-1) – 90-degree rotating head with edging wheel. 3...
VARIABLE SPEED TRIGGER – Allows you to control cutting speed on the go,...
LIGHTWEIGHT / EASY TO USE – Ultra lightweight design, along with superior...
We recommend this weed eater for when you have thicker growth. It has a 12-inch cut path with a 0.065 single line automatic feed, both of which help you get the job done faster and put it in the best cordless weed eater bracket.
Greenworks recommends this model for homeowners that have up to 1/4 acre of property. Sound like a lot of land for a battery powered weed eater? Don't worry, with the 40V battery you can keep cutting for up to 60 minutes.
That is definitely the best feature about the Greenworks products. Most battery powered weed eaters don't last for much longer than 15 minutes so anything above 20 minutes is an impressive accomplishment.
Another smart detail related to the battery is the battery-life indicator. This lets you check exactly how much run time you have left while you are still working.
This simple addition gives you the information that you need before starting on the lawn work. What could be more annoying than realising you ran out of juice just a quarter into the job?
Best Features
Long battery life with 40V battery
On-board battery life indicator
Suitable for thicker weeds and grass
Sale
Dewalt DCST922P1 Brushless Weed Eater
Edger/trimmer has a folding hinge to fit into small storage spaces**
Reduced length when folded for easy transportation of the cordless grass...
14-inch swath of the lawn trimmer is designed for a wide cutting area
Durability even in the thick brush
Choose between performance and runtime with variable-speed trigger
Looking for a reliable product that will last you for several years? Then this Dewalt lawn trimmer is one of your better bets.
It features a brushless motor which is known for durability and energy-efficiency. But the motor is not the only strong feature of this Dewalt weed eater.
The 14-inch cutting path and variable speed control are the perfect combo for tackling thick grass and weeds. Thanks to the variable speed control you can either go fast and hard or longer and slower, depending on the specific needs of your lawn.
Another great advantage is that this model is great for portability and storage. Dewalt opted for a collapsible design which makes it 40% smaller when folded.
The Dewalt XR is a great choice for anyone with a large lawn. This is the brand that you choose when you want excellent performance.
Best Features
Brushless motor
Foldable for easier portability and storage
Large cutting swath
Markita Gardenbeast DUR364LZ Weed Eater
Makita-built motor delivers 7,800 RPM for faster cutting speed and...
Ergonomic design is well balanced with less weight (only 6.4 pounds with...
Compact size is ideal for trimming and precise edging
Telescoping shaft allows the user to adjust the length of the tool from...
Battery and charger sold separately
Makita is one of our favorite brands for great value. Their products are always priced fairly for top quality and fantastic extra features.
With the Gardenbeast, Makita wins us over again. It has a brushless motor which provides extra torque and power, perfect for the more unruly lawns.
You have the option between 5000 RPM and 6500 RPM which not only affects the speed but also gives you more control over the run time. Not that run time is an issue with this weed eater.
Depending on the battery size that you choose, a single battery can last you between 25 – 45 minutes. This is definitely one of the better battery performances when you compare it to other brands.
Another reason to love this string trimmer is the extra thick string and intuitive bump feed. It also has a reverse rotation function which makes it easier to remove any weeds or blades of grass that may have gotten stuck.
Best Features
Powerful brushless motor
Excellent battery life
Reverse rotation function
Considerations Before You Buy
Okay, so you want a little more reassurance than us just telling which products we recommend. You are being a responsible consumer and we support that.
To help you better understand the different applications and quality of the best weed eaters, we have created a quick and simple buying guide.
What Is the Difference Between a Weed Eater and Trimmer?
Weed eater, string trimmer, weed whacker – they all refer to the same lawn tool. Plus, almost all weed eaters also work as an edger.
In short, there is no difference so you don't have to worry about having the wrong item delivered.
This is what you can use a weed eater for:
Removing weeds
Evening out the lawn
Creating clean edges
Cut grass in areas the lawnmower cannot reach
Types of String Trimmer
There are 3 main types of string trimmer or weed eater. Here is a brief overview of each type.
Gas powered weed eater
This is a cordless weed eater that runs on a gas engine. Although this is the most powerful option, it is also the heaviest, the noisiest and it releases fumes.
In other words, this is the least user-friendly and least environmentally friendly weed eater. Unfortunately, for commercial work and those living on large properties, a gas weed eater may be necessary.
Cordless battery powered weed eater
The items on our list of the best battery powered weed eaters fall under this category. This lawn tool features an electric motor with a rechargeable battery pack.
The advantage of this type of weed eater is that you are not limited by a cord and you don't have any of the gas engine related disadvantages. The downside is that a low capacity battery really limits your run time and so these weed eaters are best for small to medium lawns.
Corded electric weed eater
Corded electric weed eaters also have an electric motor but they can run for an unlimited amount of time because they are plugged into an outlet. These also tend to be more lightweight designs which is great for people that don't want to strain their arms.
The downside is that you need a pretty long extension cord to be able to properly tend to your lawn. That is why these electric weed eaters are recommended for smaller yards.
Enjoy the video below to get a few tips when whacking weeds this weekend!
Essential Features
Battery
Undeniably, the most important element in a cordless electric weed eater is its battery. They also tend to be the pricier component of gardening tools.
We recommend that you go for a 40V battery if you want the longest run time. Although these are more expensive, you can save on purchasing costs by sticking to a single brand for your yard tools so that you can use the same battery for several tools.
Functionality
Weed eaters are both a string trimmer and an edger. Make sure that the model that you choose is equally good at both.
Weight
Like with most power tools, the more lightweight options are more user-friendly. These tools don't come with a harness so you must really be comfortable holding it in your hand for at least 15 minutes.
Designs that have a second grip are good for a better weight distribution. Also, consider how the length affects the strain on your arm and also how it hangs in storage.
String Thickness
This is quite straightforward, thicker strings are for thicker growth while thinner strings are best for just grass blades. There are 3 main size categories:
Thin: 0.065 – 0.08 in
Medium: 0.08 – 0.110
Thick: 0.110 and above
The wilder your lawn, the thicker your string should be. Note that not all weed eaters are capable of holding all thicknesses so consider your needs before choosing a specific model.
Bump Feed vs Automatic Feed
Most models have a bump feed which means you have to bump it on the ground for more string to come out. Generally, the automatic feed is more durable because you might be hitting too hard with a bump feed.
Frequently Asked Questions:
How Does a Battery Powered Weed Eater Work?
Battery powered weed eaters have an electric motor which runs on the electricity provided by the attached battery pack. These battery packs are removable and rechargeable.
What Is the Best Brand of Battery Powered Weed Eater?
The best brands for a battery-powered weed eater are Makita, Dewalt and Greenworks. These yard tools brands offer you strong performance, distinctive features and a user-friendly design for reasonable prices.
Are Battery Powered Weed Eaters Worth It?
Battery powered weed eaters are worth it when you have a small to medium yard and don't want to be confined by a power cord. They are also the more environmentally-friendly alternative to gas powered weed eaters.
Overall, cordless electric weed eaters are very user-friendly. So, if you want your yard tools to be more enjoyable to use rather than a headache, consider getting this type of weed eater.
Summary
For those that love a tidy lawn a weed eater is an unmissable yard tool. These power tools make all the difference and are often quite intuitive in use.
The best battery powered weed eater is lightweight, powerful and precise. It is also important that it has a long lasting battery because you don't want to have to quit halfway through the job.
Dewalt, Worx, Black+Decker, Makita and Greenworks are all excellent brands for yard power tools. These brands consistently deliver on performance and durability.