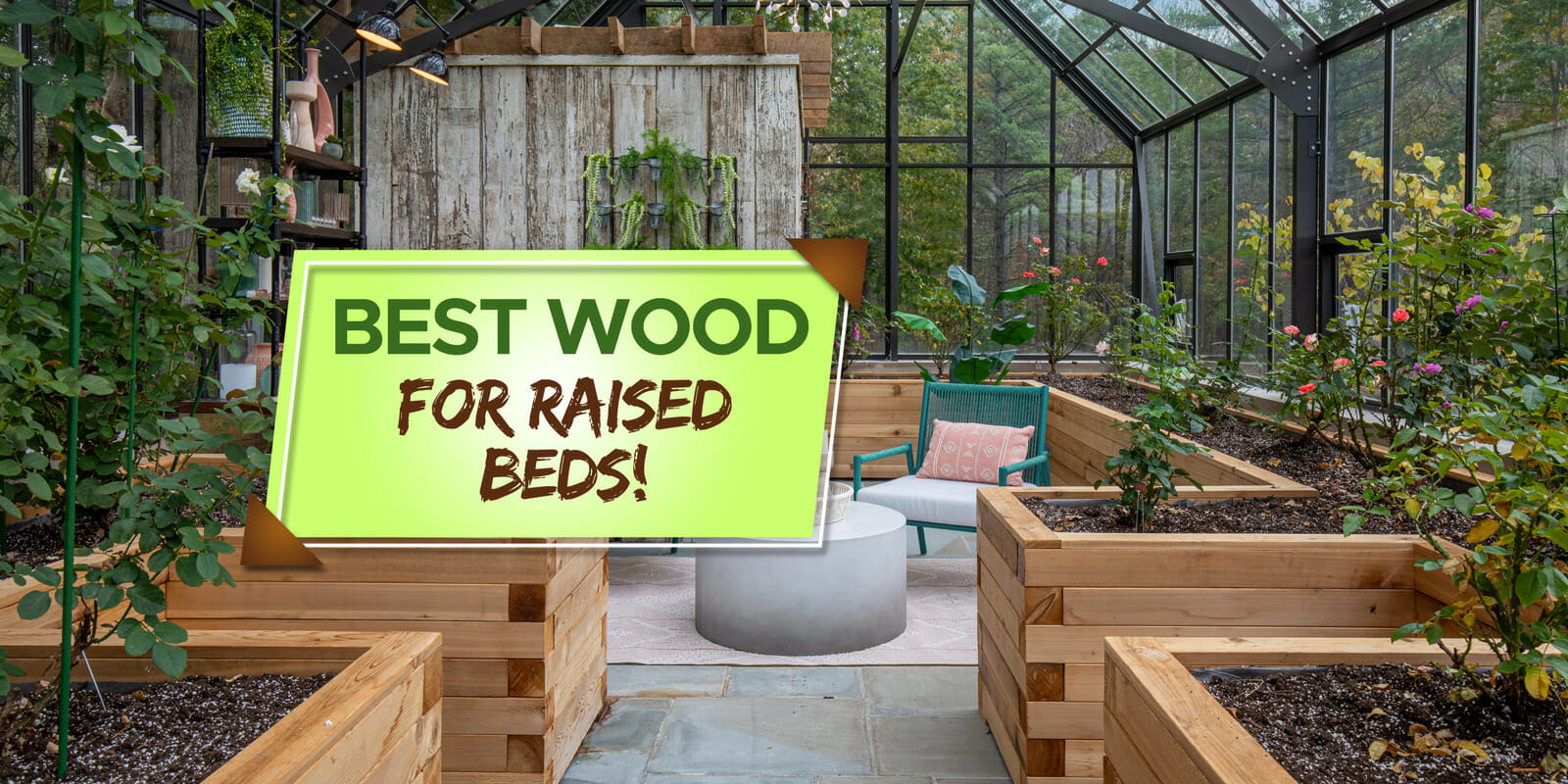 Raised beds are a beautiful way to grow a bountiful vegetable garden in a small space. They are simple to erect and give you much control over your soil and drainage.
However, once you have decided that one of these beds is for you, you'll need to figure out what wood is best to build a raised bed?
So, what is the best wood for raised beds? The three wood types that we recommend the most for raised garden beds are cedar, redwood, and pine. They all have their pros and cons, but all are safe to use for a vegetable garden.
These compact grow boxes are a stunning addition to any garden that will reward you with a generous harvest every year if you play your cards right. Building a raised bed yourself is an incredibly satisfying project that will continue gifting you with fruit and vegetables for years to come.
In this article, we are going to learn a little more about raised beds, why you might want one, and the best wood to use to build yourself a long-lasting bed of your own.
Grow Your Yard Tip
Raised beds don't take up a lot of space, so they can be erected anywhere. If you are short on space, why not try lining pathways or garden beds with raised beds to add height and give you more room to grow?
What is a Raised Bed and Why Choose One?
Raised beds are essentially large grow boxes that you can build to create a raised vegetable garden. These boxes are generally constructed on a flat area of your garden from timber before filling it with a soil mix of your choice. The beds are usually between 6'' and 12 '' tall. Building raised beds out of metal is also possible if you know what you're doing.
Apart from being aesthetically beautiful and easy to maintain, there are so many benefits to choosing a raised bed, here are just a few of the highlights:
| | |
| --- | --- |
| | Benefit of a Raised Bed |
| Drainage | Allows soil to drain well after every watering to prevent waterlogged soil |
| Soil Quality | You can customize your soil to precisely what you need regardless of the soil in your garden |
| Access | Beds create channels between them so you can reach all the plants easily from all sides |
| Flexibility | Place your bed wherever you like and make it whatever size you need |
| Pest Control | Smaller area to concentrate pest control in |
| Harvest | Raised beds allow you to plant close together, giving you more room to grow a variety of veggies |
Arranging your vegetable garden this way will make maintaining your veggie garden easy while maximizing on your space to get the best harvest possible.
We would recommend a raised garden bed for a keen vegetable gardener, but we especially recommend them for older gardeners and those with physical disabilities because it reduces the need to bend down quite as far.
Grow Your Yard Tip
Planting your raised bed strategically allows you to maximize your harvest. We suggest using vertical supports to train plants like raspberries and then use the space in front of it to plant a
companion plant
beside it.
Best Wood for Raised Beds
So you've decided that a raised bed is for you, now what?
Choosing your wood, of course!
The key elements to take into consideration when selecting wood are:
This is the number one factor that you need to take into consideration. How long do you want your bed to last?
If you have a temporary bed in a rental property, then durability won't be such an important factor, but if you want your bed to last, this is crucial. For a raised bed to last, you want to use natural rot and mildew-resistant wood. Choosing a wood that may have pest control properties is also favorable.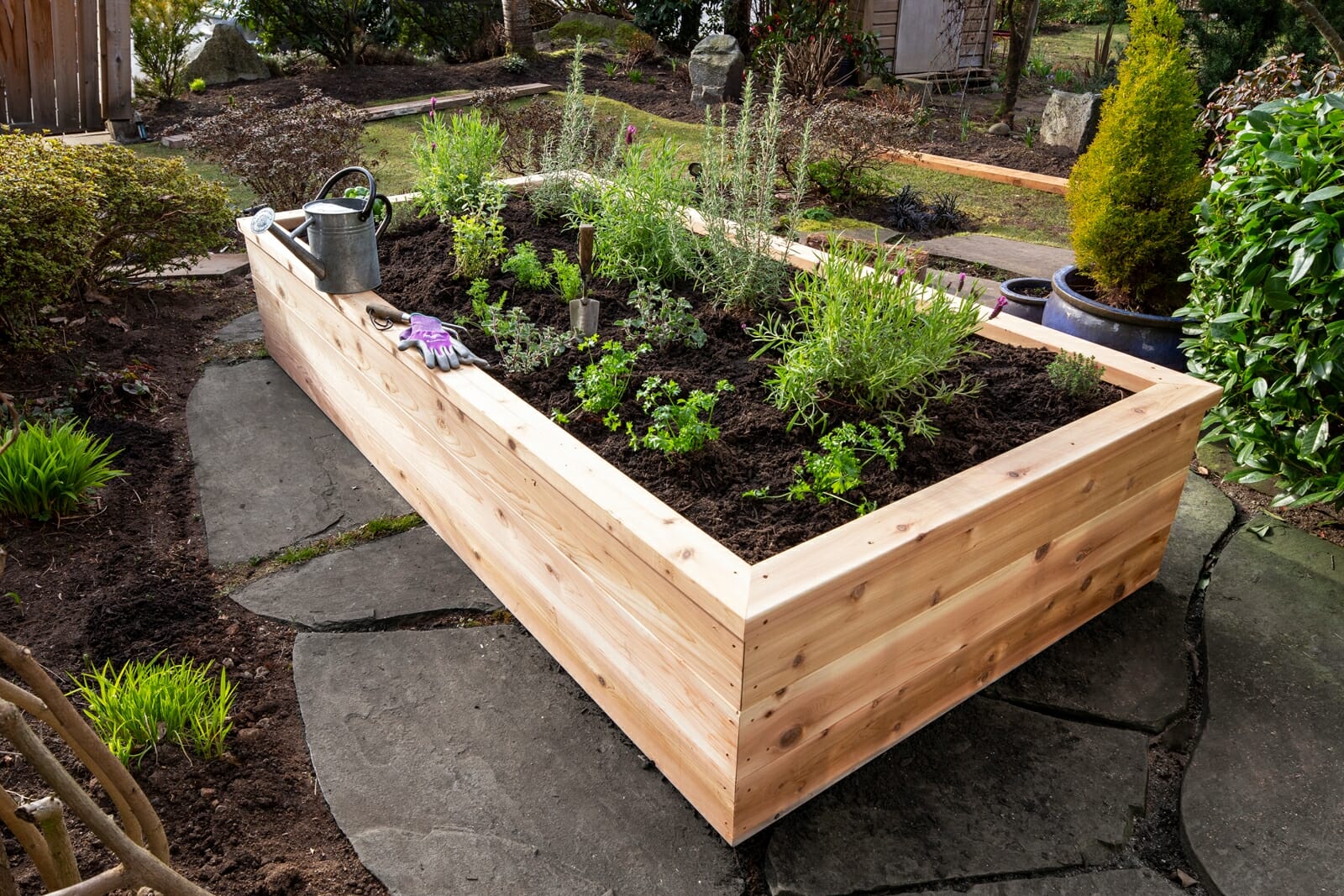 As with any project, you need to consider the cost.
It's all well and good to choose the strongest and most rot-resistant wood possible, but if it doesn't fit your budget, you're back at square one.
We recommend sitting down and budgeting precisely what you will need to create your raised bed from start to finish so you have a clear idea of the costs involved before undertaking this challenge. This will make choosing your wood much simpler.
The FSC (Forest Stewardship Council) is an agency that is committed to sustainable forestry and minimizing its effects of it on the environment.
Whenever you buy wood, you should always check that it has been certified by the FSC, so you know that your wood has been ethically sourced.
Right, now that we know the criteria we are looking for, here are our three top wood types that we recommend for building raised garden beds:
Cedar
By far, cedar is the most popular wood for creating long-lasting raised beds.
The number one reason that we recommend cedar for raised beds is that they are naturally rot-resistant and pest repellant. This is because of the natural tannins present in the wood, which makes it perfect for long-term exposure to moisture.
One downside to cedar is that it is relatively expensive; however, if you want your raised bed to last, it will be worth the initial investment. If you are in the eastern United States, you may be able to get hold of cedar for a slightly lower price.
Redwood
Here, we have another wood that is packed full of natural tannins. Just like cedar, redwood is rot resistant and naturally pest repellant, so it is an excellent choice for building a long-lasting raised bed.
Redwood is also a little more pricey, but it is more readily available and slightly cheaper than cedar.
Pine
If you are building a more temporary raised bed and are on a budget, then pine may be your solution.
Unfortunately, pine doesn't have any natural tannins that give cedar and redwood their rot and pest-resistant qualities. It is expected to rot after a few years of moisture exposure, which is why we recommend it for temporary or short-term beds only.
A great advantage to using pine is that it is more readily available because it is a common building material. It is also very affordable relative to the wood we have looked at so far.
Grow Your Yard Tip
The deeper the bed, the more it will retain water, which means less watering for you. We suggest making your beds between 10'' and 12'' high.
Frequently Asked Questions:
Can treated wood be used for a raised bed?
At first glance, pressure-treated wood might seem like the ideal material for a raised garden bed because it is so durable and strong; however, it is not recommended for building raised garden beds.
The reason for this lies in the chemicals used to treat the wood. Most treated wood contains arsenic compounds and copper-based preservatives that are toxic. These chemicals can leech into the soil and affect your crop.
For the same reason, you should avoid using reclaimed wood like shipping pallets.
How thick should the wood for raised beds be?
The ideal thickness for the wood you will be using is 1.5'' to 2''. This will be thick enough to withstand the pressure of the soil and hold its shape.
We recommend adding posts halfway along the bed to reinforce the boards and prevent bowing.
How long will a wooden raised bed last?
This question totally depends on the type and thickness of the wood you have chosen.
If you are building a raised bed on a property you own, you want a more long-term solution using cedar or redwood. These beds will have a life span of up to 10 years.
However, if you choose to create a short-term bed out of pine, they have a 3 to 4 year life expectancy before they start to rot.
Conclusion
Raised garden beds are a delightful addition to any garden that can be worked on and adapted to suit just about any garden.
At the end of the day, we recommend waiting a while and saving so that you can invest in a sturdy cedar or redwood raised bed that will last you for years. After ten years of harvesting, you will make back all you put in in the form of vegetables.
We hope this has inspired you to get out into the garden and build a bountiful raised garden bed for yourself.